News story
Michael Gove: guidance for schools on female genital mutilation
In a statement after meeting with Fahma Mohamed, the Education Secretary confirms all schools will receive guidance on keeping children safe.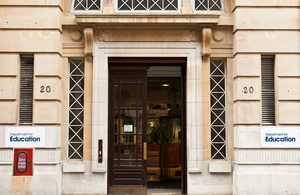 Education Secretary Michael Gove said:
I was very pleased to meet Fahma Mohamed today. She has been running an inspirational campaign. Fahma and her supporters have done fantastic work in raising awareness of female genital mutilation. It is a truly horrific crime. We must do everything we can to end it.
I outlined to Fahma our plans to send every school in the country guidance on keeping children safe. The guidance will be sent out by Easter and it will specifically include material that will enable everyone working with young people to tackle female genital mutilation. That material will cover:
what we know about the prevalence of female genital mutilation, in the UK and abroad
factors which heighten the risk of a schoolchild in the UK becoming a victim of female genital mutilation
indications that a child may have been a victim of female genital mutilation
statutory safeguarding duties of teachers and other school staff in relation to female genital mutilation
It also carries links to external expert advice on specific safeguarding issues from the NSPCC. I will write to all headteachers to draw their attention to the updated schools safeguarding guidance and to reiterate that all teachers should familiarise themselves with it.
I was interested to hear Fahma's thoughts on training for teachers in this area and on how education about female genital mutilation can be made age appropriate. I have asked her to send me further evidence of good practice.
I thank Fahma - and other courageous public campaigners against female genital mutilation - for their efforts. We all want to see this very serious form of child abuse consigned to history.
Published 25 February 2014