Press release
Michael Gove calls on independent schools to help drive improvements to state education
Michael Gove calls for more independent schools to become teaching schools - and continue to support the improvement of state education.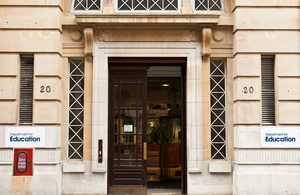 He was speaking following a conference, hosted by the National College for Teaching and Leadership, for leading independent schools interested in finding out more about becoming teaching schools.
Education Secretary Michael Gove established the teaching schools programme in 2011, marking a shift to a school-led system of training and development for teachers and heads throughout their careers. Outstanding schools can apply to be a teaching school, leading a group of schools and working with other partners including universities.
The schools develop to provide a strong supply of new teachers, the next generation of heads, and support for schools in challenging circumstances.
Currently there are 358 teaching schools, 3 of them independent schools: Wellington College in Berkshire, Guildford High School in Surrey, and King Edward VI Girls School in Birmingham.
Michael Gove said:
The teaching schools initiative plays a key role in the government's plans for a school-led system, with schools freed from the constraints of central government direction, and teachers and schools placed firmly at the heart of school improvement.

I am committed to supporting this country's education system to become an autonomous one, where the best schools lead the way in teaching teachers and where schools work together in partnership - supporting one another to provide an outstanding education for all.

That is precisely why I am eager for independent schools to become leaders of teaching schools.

I believe strongly that every child should have an education of the highest quality and I urge all independent schools to get involved, to apply for teaching school designation, and to become key players in leading this country's school system now and in the future.
Dr Anthony Seldon, the Master of Wellington College, said:
Every leading independent school should want to become a teaching school, as we have at Wellington. The stimulus to teaching, professional development, recruitment and leadership is considerable. It is also the ideal way of breaking down the apartheid between the independent and state sectors.
Independent schools must meet certain criteria before they can become teaching schools.
The final teaching schools application round opens on 13 September 2013 and closes on 18 October 2013.
By the end of this Parliament, the Department for Education will have committed £100 million to the teaching schools network.
More information on teaching schools is available in the National College for Teaching and Leadership section of the Department for Education's website.
DfE enquiries
Central newsdesk 020 7783 8300
General enquiries 0370 000 2288
Published 10 July 2013