News story
MHRA conference: hot topics in advertising seminar 2015
23 February 2015: MHRA event bringing together regulated industry and regulators responsible for overseeing advertising and promotion of medicines.
This news article was withdrawn on
This event has taken place.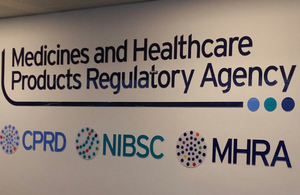 Don't miss out - register today.
Join the Twitter conversation about the event at #HTIA15
This must-attend annual MHRA event brings together regulated industry and the regulators responsible for overseeing the advertising and promotion of medicines. Representatives from MHRA and self-regulatory bodies will provide delegates with the latest information on policy and enforcement activities, with updated guidance and a focus on compliance. This meeting will give you a clear understanding of how to conduct advertising and promotion activities in this highly regulated environment.
Registration
Early-bird tickets are available now.
Visit the event website to book.
Venue
MHRA Head Office, London
Who should attend?
This conference is attended by professionals in the fields of regulatory, legal, public relations, marketing and management in the pharmaceutical industry.
The conference is also beneficial for consultants in the areas of advertising, public relations, law and marketing communications.
Why attend?
This event will identify the pitfalls that other advertisers have fallen into and show how to avoid these mistakes. This will also give attendees the opportunity to hear directly from MHRA Advertising Standards Unit and from Prescription Medicines Code of Practice Authority (PMCPA) and patient advisory group board (PAGB) as well as interact with other advertising professionals.
Benefits of attending
Improve your advertising compliance.
Learn from the mistakes and successes of other advertisers.
Understand how to make the vetting process run smoothly to save time and money.
Discuss current issues and potential changes to the legislation and guidance.
Topics to be covered include:
review of 2014: advertising annual report
highlights from prescription-only medicines (POM) and over-the-counter (OTC) medicines vetting cases in 2014 with advice on successes and problems
solutions to communications before authorisation, the implications of early access schemes and adaptive licensing, 'specials'
practical advice on advertising traditional herbal and homeopathic remedies
review of complaint cases in 2014, identifying potential hazards and providing tips to avoid them
*[PAGB] patient advisory group board *[PMCPA] Prescription Medicines Code of Practice Authority
Published 29 January 2015