News story
Messages for Eid ul-Adha
Communities Secretary Eric Pickles and Communities Minister Lord Ahmad send wishes to Muslims celebrating Eid ul-Adha.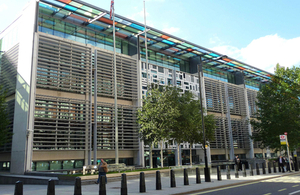 Eid ul-Adha begins tomorrow (4 October 2014). It is the second of 2 religious holidays celebrated by Muslims worldwide each year. Eid al-Adha honors the willingness of Abraham (Ibrahim) to sacrifice his promised son. Ishmael (Ismail)a as an act of submission to God's command, before God then intervened to provide Abraham with a lamb to sacrifice instead.
Communities Secretary Eric Pickles said:
I would like to send my warmest wishes to all British Muslims celebrating Eid ul-Adha.

The values of compassion and togetherness embodied by this holy festival are ones we can all learn from. They strengthen and encapsulate the spirit of community that unites Muslims and non-Muslims alike.

I wish Eid Mubarak to you all as you reflect, celebrate and spend time with your loved ones.
See Lord Ahmad of Wimbledon's recorded video message:
Published 3 October 2014