News story
Members appointed to Offshore Wind Programme Board
Secretary of State Edward Davey today announced the membership of the industry-led Offshore Wind Programme Board which is chaired by Adam Bruce…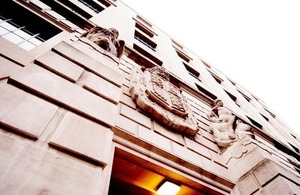 Secretary of State Edward Davey today announced the membership of the industry-led Offshore Wind Programme Board which is chaired by Adam Bruce, the Global Head of Corporate Affairs at Mainstream Renewable Power.
The Offshore Wind Programme Board has been established following the recommendations in the Offshore Wind Cost Reduction Task Force report. It brings together senior representatives from industry (including developers and supply chain), Government, The Crown Estate and Statutory Nature Conservation advisors and is based on successful models used in other sectors such as the Oil and Gas PILOT group.
Secretary of State for Energy and Climate Change, Edward Davey said:
"In the coming decades, offshore wind will play an increasingly important role in our energy mix, delivering secure and clean energy and supporting jobs and growth.
"The UK is the biggest market in the world for offshore wind and we are determined to continue that success and reap the economic benefits.
"Today I am appointing members to the Offshore Wind Programme Board with the skills and experience to drive down costs, tackle barriers to offshore wind and develop the UK supply chain."
The Programme Board members are:
Name Company & position Sector
Industry members
Adam Bruce: chair Mainstream Renewable Power, Global Head of Corporate Affairs Offshore developer
Jonathan Cole ScottishPower Renewables, Offshore MD Offshore developer
Benj Sykes DONG Energy, UK Country Manager Offshore developer
Clark MacFarlane Siemens, MD UK Offshore Windpower Turbine manufacturer
Steve Burgin Alstom UK - UK President Turbine manufacturer
Ron Cookson Technip - Senior Vice President, Technip Offshore Wind Offshore contractor
Stephen Trotter ABB, MD Power Systems Electrical, cables and Transmission &Distribution
Ian Farquhar David Brown Gears, Offshore Wind Development Director Supply Chain
John Robertson Burntisland Fabrications (Bi-Fab) - Managing Director Fabrication
Maf Smith Renewable UK, Deputy CEO Trade Association
Andrew Jamieson Offshore Renewable Energy Catapult, CEO Chair of Offshore Wind Cost Reduction Task force
Government / public bodies
Hannah Brown: co-chair DECC - Office of Renewable Energy Deployment Head Industry and Investment
Alastair Dutton The Crown Estate Programme Manager (Wind Development)
David Stevenson The Scottish Government Senior Policy Officer, Offshore Wind
Chris Pook BIS Deputy Director, Green Economy
Will Armitage DEFRA Head of Major Infrastructure and Environment Unit
Keith Waller HMT Senior Adviser, Infrastructure UK
John Goold JNCC Statutory Nature Conservation Advisors representative
---
Notes for editors
A Press Notice announcing the appointment of Adam Bruce was issued on 18 October, reference 12/126.
Industry members have been appointed in a personal capacity. The role is voluntary and not paid and each appointment is for an initial one year period after which time this will be reviewed with an option to extend.
As announced in the UK renewable energy roadmap in July 2011, the Offshore Wind Cost Reduction Task Force was established to set out a path and action plan to reduce the costs of offshore wind to £100/MWh by 2020. It reported to DECC & Devolved Administration Ministers in June 2012, with a number of recommendations. The establishment of an offshore wind programme board was one of the key recommendations.
The OWPB will report to the Offshore Wind Developers Forum, which is jointly chaired by Keith Anderson of Scottish Power and the Secretary of State for Energy and Climate change, Edward Davey. The Offshore Wind Developers Forum brings together Government and industry to identify barriers to offshore wind and to work on solutions.
Published 28 November 2012