News story
Members appointed to Offshore Wind Cost-cutting Task Force
Press release: 11/081 12 October 2011 Charles Hendry today announced the membership of the industry-led Offshore Wind Cost Reduction Task Force…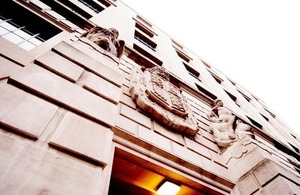 Press release: 11/081
12 October 2011
Charles Hendry today announced the membership of the industry-led Offshore Wind Cost Reduction Task Force. The group will be chaired by Andrew Jamieson, current Chair of industry-body Renewable UK.
The Task Force was announced as part of the Governments Renewable Energy Roadmap in July 2011, and will set out a path and action plan to reduce the costs of offshore wind to £100 MWh by 2020. The Task Force will report to DECC Ministers and Devolved Administration Ministers by Spring 2012.
The Task Force members are:
Name Company & Position
Thomas Arensbach Gamesa - Director - Offshore Markets & Project Development
Steve Burgin Alstom UK - UK President
David Clarke Energy Technologies Institute - Chief Executive Officer
Ron Cookson Technip - Senior Vice President, Technip Offshore Wind
Tom Delay The Carbon Trust - Chief Executive Officer
Christoph Ehlers Siemens Wind UK - Managing Director
Andrew Garrad GL Garrad Hassan - Chairman and CEO
Chris Hill Mainstream Renewable Power
General Manager, SMart Wind Ltd
Chris Jones Sinclair Knight Merz (SKM) - Technical Director, Networks
Flemming Ougaard Vestas Offshore A/S - Chief Operating Officer & Senior Vice President
Christian Skakkebaek DONG Energy - Senior Vice President, Country Manager UK
Mike Straughen Wood Group - Group Board Director
Michelle T Davies Eversheds - Partner & Head of Clean Energy and Sustainability
Alan Thompson Centrica - Director of Renewable Energy
Ed Wilson Lloyds Banking Corporate Markets - Head of Renewable Energy
Speaking at the Offshore Wind Developers Forum, which brings together Government and industry to work on solutions to remove barriers that have the potential to impede the viability and deliverability of offshore wind in the UK, Energy Minister Charles Hendry said:
"Offshore wind not only makes sense for our energy security and the environment, but the economy too, bringing jobs and economic growth. I am pleased to be able to announce the members that will spearhead this vital work to drive down the costs of delivering our offshore wind ambitions.
"This Task Force will provide the strong leadership and vision required to grow our offshore wind sector in the next decade and beyond".
---
Notes for editors:
The first full meeting of the Task Force will take place on 18th October 2011 in London.
DECC appointed Andrew Jamieson to chair the Task Force on 19th August 2011 - see the relevant DECC press release
More information about the Offshore Wind Developers Forum is available on the Crown Estate: Offshore Wind Developers Forum web page.
Published 12 October 2011