World news story
Meeting at the Alternative Energy Club in Tashkent
This was published under the 2010 to 2015 Conservative and Liberal Democrat coalition government
British Ambassador delivered a lecture at the Alternative Energy Club in Tashkent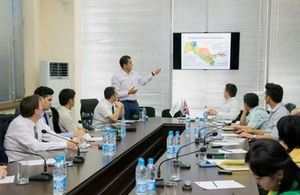 On 30 April, Her Majesty's Ambassador Mr George Edgar delivered a guest lecture at the Alternative Energy Club on 'green' projects in the UK private sector. This took place in the TechnoPlaza Business Centre. The lecture attracted AEC members who included entrepreneurs interested in the development of 'green' technology, environment protection experts and journalists.
Mr Sherzod Kattakhodjaev, AEC Chairman, talked about the AEC mission and goals. He also talked about AEC members' recent visit to India to study the Indian experience in the development of the alternative energy sector. This included meetings with Indian officials and businessmen working in this field.
The Ambassador informed the audience about the approach being taken by the British government to develop the green economy and decrease carbon emissions in the UK through legislation, incentives and effective research and development. He also mentioned examples of successful green projects including the Green Investment Bank, designed to support the development of the green economy. This is the first bank of its type in the world, which was created by the UK Government with an initial £3.8bn of capital from public funds. This helped lead to the production of the Nissan Leaf electric car in Sunderland, north-east England.
The Ambassador also mentioned a British firm called Sentec who are the world's leading supplier of smart grid and smart metering technology and a company called Atkins, a leading design, engineering and project management consultancy. The company participates in construction of the world's best known buildings that are energy efficient and green. Atkins is proud to have been selected as the main engineering and design company that built the sports venues for the 2012 London Olympics.
A vibrant discussion followed the Ambassador's presentation which included ideas for developing partnerships between British and Uzbek businessmen in the field of 'green' technology.