World news story
Meet Top UK Universities in Baku on October 26
The UK Education Tour exhibition and seminars will take place at the Hilton Hotel from 13:00 to 18:00.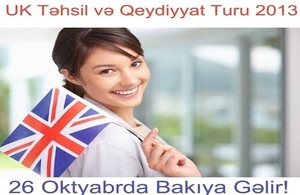 With 4 universities in the global top 6 (according to QS World University Rankings), it is no surprise that the UK is the most popular destination for government-sponsored Azerbaijani students studying abroad. The UK is also one of the top destinations for students globally, due to the quality of teaching and research in UK universities, the high level of support for international students, and the global recognition of UK qualifications.
The Azerbaijan "State Program for the study of Azerbaijani youth abroad" provides scholarships to help students applying for target subjects, to ensure the development of key industries in Azerbaijan. The priority skills and industries include: Engineering, Higher Education Management, Oil, Gas & Energy, Chemistry, Biology, Nanotechnology, Agriculture, Physics, Math, Medicine, Tourism, and Information Technology.
For those considering studying in the UK, UK Education Tour offers the chance to meet university recruiters, learn about courses and application procedures, and attend interesting seminars about studying in the UK.
UK Education Tour was the first UK-specialist event in Azerbaijan, and remains the best event for students serious about studying in the UK.
Universities attending UK Education Tour this year include University College London, University of Manchester, Warwick University, University of Birmingham, University of Sheffield, University of East Anglia, Aberystwyth University, Sheffield Hallam University, and Regents University, London.
Seminars will cover subjects such as UK Student Visas, Applying for PhD study in the UK, 13 things every student from Azerbaijan should know before studying in the UK, Higher Education Management, and more.
The official registration page can be found here
Published 17 October 2013