Last week, The Sun newspaper honoured courageous servicemen and women at its fifth annual Military Awards ceremony.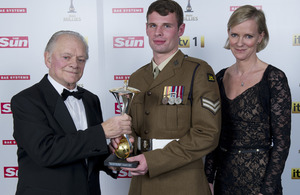 Over the rest of this week we'll be bringing you interviews with some of the winners and their celebrity presenters.
True Grit Award
Wounded in a Taliban blast, hero soldier Corporal Oliver Kennedy battled through his own pain to help injured comrades. Corporal Kennedy, from the Princess of Wales's Royal Regiment, suffered deep shrapnel wounds when his platoon was hit in October 2011.
He credited his training for 'kicking in' and he was quickly back on his feet pulling the wounded to safety. His actions, later described as 'exemplary', saw two men survive their life-threatening injuries.
Sir David Jason and 'Spooks' star Hermione Norris handed the True Grit Award to Corporal Kennedy who said:
II just cracked on and carried on. I was shocked to win as my category was so strong and was lost for words but I'm so honoured to be nominated let alone win.
Backstage at the ceremony, Hermione Norris told Corporal Kennedy:
It's so admirable what you do to keep us safe and often goes unnoticed. It's a huge privilege to be here to say thank you, show respect and celebrate what you do.
Hermione added:
I find it overwhelming. I know quite a few people in the Army who have young families and the sacrifice that they make, the danger that they face and the humility of humanity to keep us all safe just takes my breath away.
Sir David Jason said:
We know so little about the day-to-day work that these men and women do but it's so important. I doubt that Mr and Mrs Average ever think about what these guys and girls do on our behalf but, without them, we'd be speaking German!
Most Outstanding Airman Award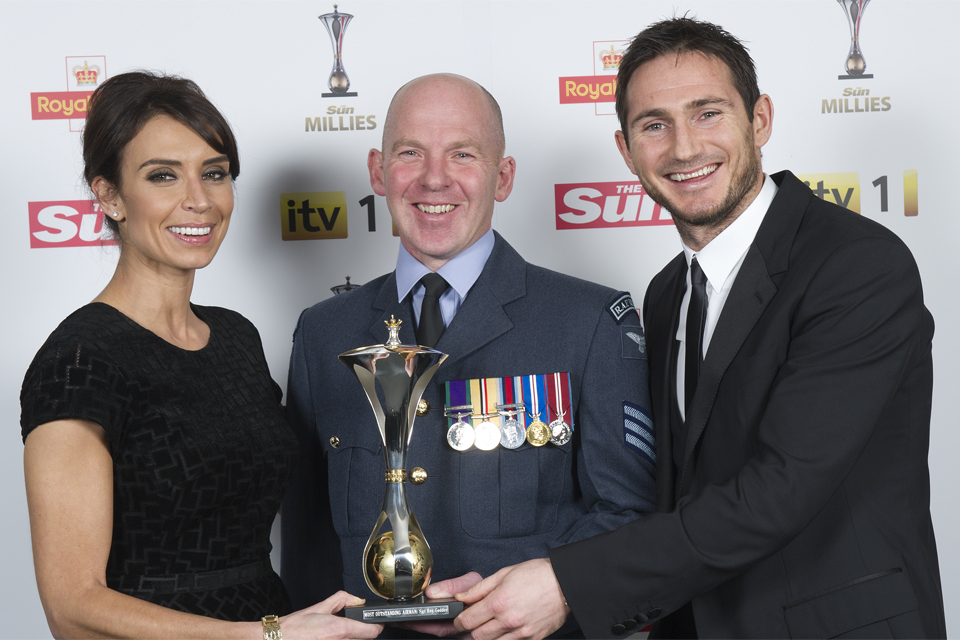 When a Taliban death squad breached the walls of Camp Bastion, it was Sergeant Roy Geddes who led the defence. His heroic charge of the base is now dubbed the 'Battle of Bastion'.
Sergeant Geddes from 51 Squadron Royal Air Force Regiment in Moray, led a band of men in September when 15 insurgents blew their way into the base, where Prince Harry was based at the time, killing 2 US Marines and destroying 6 US Harriers. Despite getting a painful lump of shrapnel in his knee, Sergeant Geddes fought on until the base was safe.
Sergeant Geddes received the Most Outstanding Airman Award from TV presenter Christine Bleakley and Chelsea footballer Frank Lampard.
For the second year running, Premiership and England star Frank joined the judges' panel and had the tough task of helping to select the winners. He said that when he read the airman's citation, he was instantly struck by his 'quick-thinking'.
Frank said:
Groups need leaders and Roy was certainly a leader.
Christine added:
Roy is an extraordinary character, very unassuming, but when you hear the tale that he has to tell, you can't quite believe it. He's a very special man.
Look out for more Millies winners over the coming days.
You can also watch The Millies awards on ITV1 at 2100hrs on Friday 14 December.
Published 12 December 2012