News story
Meet more Millies heroes
Last week, The Sun honoured courageous Service personnel at their Military Awards. Here we bring you interviews with two more winners.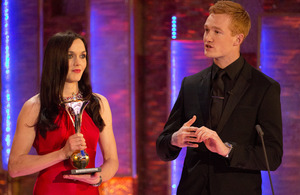 Judges' Special Recognition Award 1 - Operation Olympics
Olympians Victoria Pendleton and Greg Rutherford presented the first of two Judges' Special Recognition Awards to the Armed Forces for their contribution to the London 2012 Olympics. At its height, more than 17,500 personnel stepped in when G4S were not able to provide sufficient guards for all the venues.
Victoria said:
Everyone I've met has been incredible; individuals who've achieved so much. I feel in awe because all I did was ride round in circles on a wooden track with a bike with no brakes and one gear and this is real life. I can't not be moved and it makes me feel very proud to be British.
It was clear the military personnel treasured their experiences. Senior Aircraftwoman Afyah Bubb, an RAF medic who volunteered to be part of the security team at the Olympic Park, saw it as a 'once-in-a-lifetime opportunity'. She said:
We were there to do a job but I unexpectedly got the chance to see Ellie Simmonds break some swimming records which was fantastic.
Squadron Leader Brian Fahy added:
We were really proud to be part of the Games this summer and see the superb performance of our athletes. Who wouldn't want to be part of the greatest show in town?
Olympic long jump gold medallist Greg Rutherford said backstage:
I'm hugely proud of the Armed Forces; the whole evening has been a massive highlight and getting involved feels out of this world.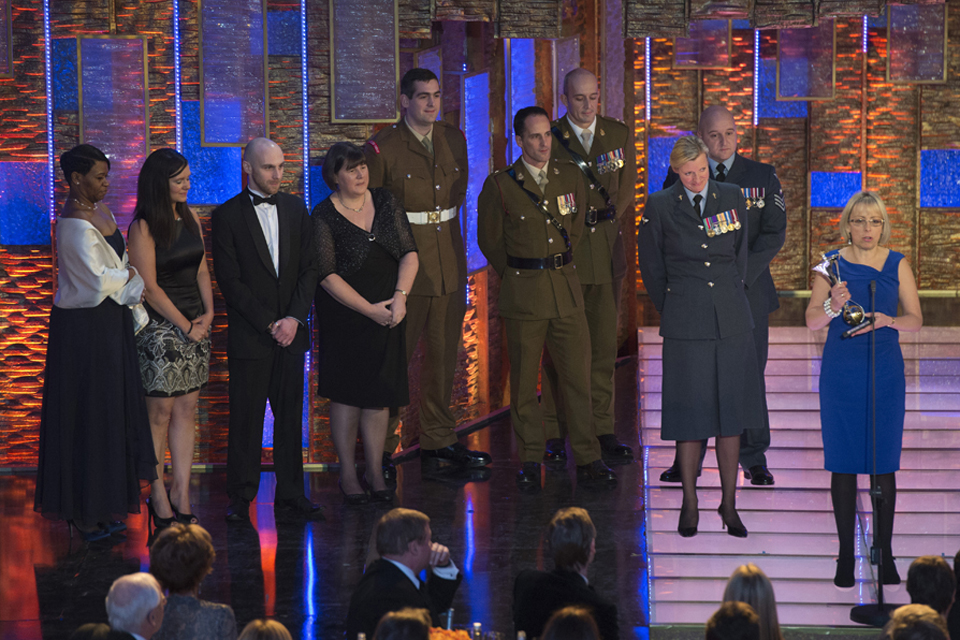 In a light-hearted moment, Greg joked that he hadn't packed enough tissues. He said:
I get emotional so easily and seeing videos of these incredible people moves me to tears every time. It's completely surreal to be here; I've got friends in the Armed Forces including my best friend who is now going through training.
It's fantastic to be invited to such a prestigious night, and to show our respect and thanks to these guys is an honour. The troops came in with happy smiley faces and gave high fives and absolutely saved the day! A huge thank you, you were absolutely spectacular.
Judges' Special Recognition Award 2 - Complex Trauma Team, Headley Court
The second Judges' Special Recognition Award honoured the Complex Trauma Team at the Defence Medical Rehabilitation Centre Headley Court. It is the remarkable skill and dedication of the 110-strong Trauma Team that help many critically wounded soldiers overcome life-changing injuries so they can get back to leading active lives.
Complex trauma manager Anne Brannagan received the award on behalf of Headley Court from actor Kevin Spacey who congratulated and shook hands with each of the 10 team members on stage.
Group Captain Clare Walton, Commanding Officer at Headley Court, said:
Kevin Spacey was just very complimentary, it was great, and to have someone of his level of superstardom even know who we are is lovely.
You can watch The Millies awards ceremony tonight (14 December) on ITV1 at 2100hrs.
Published 14 December 2012