Media statement about the Priory Federation of Academies Trust
The Department for Education has made a statement on the Priory Federation of Academies Trust.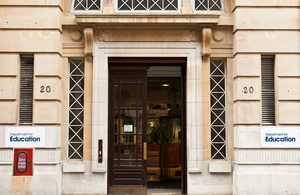 A Department for Education spokesman said:
The department's investigation into the Priory Federation revealed serious failings of key individuals in relation to financial management. The Trust has accepted responsibility and the CEO has now left. The department has also referred this matter to the police.
Unfortunately no system of financial audit can guarantee it will prevent all wrongdoing. When concerns were raised, the department carried out a full investigation. When its findings were provided to the Priory, its chief executive left the organisation the same day. The Priory Federation is also taking further action as set out in their response.
The financial accountability systems in place for academies are more rigorous than those for maintained schools. Unlike maintained schools, academies must have their accounts externally audited. But lessons can always be learned and we will consider whether we need to strengthen our systems at federation level.
Notes for editors
DfE media enquiries
Central newsdesk - for journalists 020 7783 8300
Published 27 April 2012