Measures to improve adoption and fostering
A consultation into how the process for assessing prospective adoptors and foster carers can be speeded up, and how the bureaucracy that currently makes the process more difficult can be removed.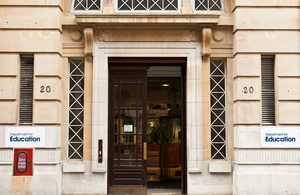 Adopting and fostering will become a faster and more efficient process thanks to new arrangements for approving carers, Children's and Families Minister Edward Timpson announced today (18 September 2012).
The government is seeking views on measures that aim to allow foster carers to make everyday decisions about the children they look after and cut unnecessary bureaucracy in the approval process to encourage more people to come forward to foster. They also set out to reduce the time it takes to adopt and make the whole process more user-friendly.
These measures should help fostering services recruit more people and support foster carers in providing a normal family environment for their foster children.
By speeding up the assessment process for adopters, the government expects that more babies will be settled into adoptive families earlier in their lives.
The government will sweep away bureaucracy which will mean that those who want to adopt and foster do not have to:
call social workers every time a child in foster care goes for a haircut, has a sleepover at a friend's house or goes on a school trip.
undergo a criminal records check if they are previous adopters or foster carers who have already been approved and who want to adopt through the fast track process, unless agencies want to undertake one.
wait longer than necessary to foster or adopt because agencies cannot share records.
In proposing to get rid of these rules the government intends to introduce measures to encourage councils to do more to enable children in care to be placed more quickly with stable and loving adoptive or foster families who can meet their needs. These include:
bringing in a new two-stage approval process for adopters, as well as a new fast track procedure for approved foster carers and previous adopters who wish to adopt.
taking forward 'fostering for adoption' - by enabling adopters to be approved rapidly as temporary foster carers. This will mean that more children can be placed with their potential permanent carers on a fostering basis while the council seeks a placement order from the courts.
requiring councils to refer looked after children for whom adoption is the plan to the Adoption Register within three months so that they are matched with adopters as soon as possible.
requiring all adoption agencies to refer prospective adopters to the Adoption Register no later than three months after approval.
making it a legal requirement that councils ensure that the child details on the Adoption Register are kept up to date.
removing the requirement to interview personal referees when a person has been an approved foster carer in the last year and a reference is available from their last fostering service.
The two-stage adopter approval assessment process means eligibility checks and initial preparation and training will be completed within the first two months. This will be followed by four months more intensive training and an assessment of their capacity to care for children needing adoption. In addition, the government is also seeking views on reducing the size of adoption and fostering panels.
After the consultation the changes are set to take effect next year.
Edward Timpson, Minister for Children and Families, said:
I know from my own family that adopting and fostering can transform young lives for the better. I want more children in care to have the opportunity of a stable, loving environment where they can reach their full potential, whatever their start in life.
Sadly I have come across too many potential adopters who have given up, frustrated by the system and foster carers exasperated by the bureaucracy required for everyday tasks.
I want the process to be as hassle-free as possible. Vital safeguards will remain, but no-one benefits from pointless paperwork. By cutting back the rules that only hinder I hope that more and more people will come forward to become adopters and foster carers to enrich their own life, as well as the lives of the many children who deserve a decent childhood.
The government is also announcing £8 million funding this year to help adoption services. This will be used to develop the necessary skills, tools, and working arrangements to deliver the programme of adoption reform, of which these measures form a significant part.
David Holmes, Chief Executive of the British Association for Adoption and Fostering, said:
Adoption and fostering are vital services for some of the most vulnerable children in society. We owe it to more children to make these services operate as successfully as they possibly can.
BAAF welcomes this consultation exercise which focuses on getting the right balance between safeguards and speed, between necessary checks and unnecessary bureaucracy. We will draw upon the vast experience across our membership in responding to this important consultation exercise.
Robert Tapsfield, Chief Executive of the Fostering Network, said:
More than three-quarters of the children in care in England live with foster carers, and so ensuring that the system is working well for these children and the families that look after them is essential.
There is a real need to make sure that foster carers are empowered to take day-to-day decisions regarding the children they foster - currently too many fostered children find themselves missing out on everyday childhood experiences. And we know that improvements must be made to the process of assessing and approving foster carers.
The Fostering Network welcomes the proposals and encourages all those who share a desire to improve the current system to respond to the consultation and help the government make changes that will improve the lives of children in foster care.
Martin Narey, the Government Adviser on Adoption, said:
I have already been able to meet with the new Children's Minister Edward Timpson and am both delighted and impressed at the speed with which he has picked up the adoption reform programme and his determination to drive it forward.
We urgently need enough adopters to offer loving homes to the worryingly high number of children in care, approved for adoption, but with nowhere to go. I believe the changes trailed in the document will begin to change that and I warmly welcome them.
Notes to editors
Adoption and fostering: tackling delay consultation is available.

An Adoption action plan: tackling delay was published earlier this year.
DfE enquiries
Central newsdesk - for journalists 020 7783 8300
General enquiries - for members of the public 0370 000 2288
Published 18 September 2012