Press release
McVey urges employers to take on young talent pool
Latest analysis shows more than 3,000 young people a month have been given a career opportunity through work experience since 2011.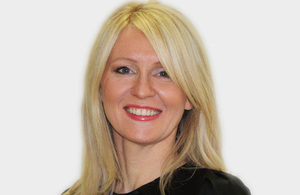 More than 3,000 young people a month have been given an opportunity to get their foot on the career ladder through work experience since 2011, recent analysis reveals.
Esther McVey will use the figures at an Employers Summit today (28 January 2014) to highlight how business leadership is key to getting more young people into work and training as the recovery takes hold.
Creating jobs and getting people into employment are central to the government's long-term economic plan to build a stronger, more competitive economy, so young people can secure their future.
Employment Minister Esther McVey said:
All young people should hold onto their dreams – but they need to get their foot in the door and work their way up by following their own personal career A-Z.

But before they can do this, jobseekers tell me they need work experience to get a job, and a job to get work experience. My message to business is to think about young people and how they can support them and their local communities – don't overlook this huge pool of potential.

Working together with business to create jobs and support young people get into work are central to our long-term economic plan to build a stronger, more secure economy.
Employment figures show that the number of young people claiming Jobseeker's Allowance fell for the 19th month running. Young people in work climbed by 77,000 in the last 3 months, with youth unemployment falling by 39,000.
Ms McVey will be meeting with a range of companies, including M&S, the BBC, and Barclays along with young people who have been through training and apprenticeships to discuss more innovative joint approaches to training, hiring and keeping on more young jobseekers.
Welfare Reform Minister Lord Freud will also discuss with employers how the new Universal Credit will make it easier for employees to work more hours once they are in a job.
Recent figures reveal that from January 2011 to May 2013, 112,990 18-24 year-olds have started work experience through the government scheme. Initial analysis shows that around half of work experience participants are off benefits 21 weeks after starting a placement.
Evaluation on employers' perceptions of the scheme published last year showed that around 3 in 4 employers felt there had been benefits for their organisation in taking people on work experience opportunities.
More than 90% of employers said they would recommend the work experience scheme to others, and more than 90% said it was worth the time and effort of setting up the scheme.
DWP has also provided more than 4,300 work experience placements within the department for over 16 year olds in the past 3 years.
Since 2010, DWP has also taken more than 660 young people with little or no work experience on as apprentices.
Ms McVey was the first MP to employ an apprentice and got the House of Commons authorities to introduce the scheme.
Businesses and charities and young people attending the Employers Summit are also from:
Fujitsu
Morrisons
British Heart Foundation
Whitbread
Capgemini
McDonalds
Barclays
More information
Read published statistics relating to work experience
Read analysis of the value of work experience
Read employers' perceptions of work experience
Contact Press Office
Media enquiries for this press release – 0203 267 5106
Press Office
Caxton House
Tothill Street
London
SW1H 9NA
London Press Office (national media and London area enquiries only – not questions about personal claims) 020 3267 5144
Out-of-hours (journalists only) 076 59 108 883
England and Wales (local media enquiries) 029 20 586 then 097 or 098 or 099
Scotland (local media enquiries) 0131 310 1122
Follow DWP on:
Published 28 January 2014