World news story
Mayor to boost tech trade links between London and Tel Aviv
London Mayor Boris Johnson urges more Israeli firms to locate in the capital during a three-day trade mission to Israel.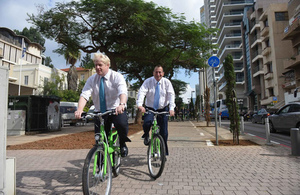 London is the leading European destination for Israeli technology companies looking to expand overseas the Mayor Boris Johnson will say today (9 November), as he urges more Israeli firms to locate in the capital at the beginning of a three-day trade mission to Israel.
Israel boasts one of the world's leading tech sectors and, according to research compiled by London & Partners, the Mayor's promotional company and IVC Research Center, London has become the number one city in Europe for Israeli tech businesses looking to list on the stock market, with companies drawn by the city's easy access to capital and its strong entrepreneurial culture.
Technology companies make up over three quarters (76%) of all Israeli companies listed on the London Stock Exchange and over the last five years they have raised over £240 million through those listings. There are currently 16 Israeli tech firms listed across London Stock Exchange's markets with a combined market value of £3.7 billion1.
The Mayor of London, Boris Johnson MP, said: "London is the natural tech partner for Israeli firms looking to expand. With access to a world class talent pool and a booming digital economy it is no surprise that Israeli tech companies are making London their home and choosing the London Stock Exchange as their international market for expansion. I'm here to encourage even more of Israel's top tech talent to head to our shores."
The Mayor will attend several events in Tel Aviv with an aim of increasing trade links with London, including visits to the Tel Aviv Stock Exchange and Google Campus. He will join Nikhil Rathi, the Chief Executive of the London Stock Exchange, to officially open the day's trading at the Tel Aviv Stock Exchange this morning, alongside a delegation of UK tech businesses.
Nikhil Rathi, Chief Executive of the London Stock Exchange, said: "London Stock Exchange is committed to ensuring ambitious, fast growing businesses from around the world have access to equity capital. Israel is world-renowned for its impressive record in nurturing technology start-ups and we believe London is the natural destination for these companies when they look to raise finance to grow on the international stage. In 2014 we saw more firms from Israel list on our markets than any other country outside the UK and with a strong pipeline we are confident that this trend will continue. We were particularly excited this year to see an Israeli company, e-toro, join our innovative business support programme, ELITE. And now we have secured permission from the Israeli authorities, we look forward to welcoming Israeli firms as trading members on the London Stock Exchange and Turquoise."
Later in the day the Mayor will head to Tel Aviv's Google Campus, where some of London's most exciting new technology businesses will be exhibiting their tech savvy in a bid to build links with their Israeli counterparts. There are huge opportunities for collaboration between London and Israel's booming technology sectors, and the Mayor will use the event to champion London as Europe's leading destination for new technology firms. Israeli tech businesses are already using London as a base to expand into international markets. The capital currently houses 141 Israeli tech firms, representing over half of the 239 Israeli companies with an office in the UK according to data collected by IVC.1
At today's tech event, James Layfield CEO of UK workspace provider, Central Working, will announce the organisation's plans to bring 20 leading Israeli start-ups to London. The start-ups chosen for the programme will not only benefit from work space at one of Central Working's four locations in London, but more importantly will have access to the mentoring and support of their community to help them accelerate their growth.
To coincide with his involvement on the Mayor's trip, the Mayor will appoint James Layfield a technology ambassador for London. He will join other ambassadors such as Russ Shaw, Founder of Tech London Advocates, Eileen Burbidge, Chair of Tech City UK and the UK Government's Fintech envoy and Sarah Wood, CEO Unruly, to help promote the capital's tech sector on an international stage.
James Layfield, CEO Central Working added: "I've been a proud advocate for London's thriving tech scene for many years and in my opinion London will be the global city of choice for tech innovation within the next five years. Our digital entrepreneurs are already competing fiercely with those from New York and Silicon Valley and I'm delighted that as a tech ambassador for London I can help spread the message about why London is the technology capital of the world. Strong community lies at the heart of Israeli culture and Central Working's strength is in our nurturing community, so I'm thrilled to welcome these fantastic Israeli tech start-ups into the network and have the opportunity to help them expand and thrive in a new market."
According to the findings of the European Digital City Index2, a new report from innovation charity Nesta and the European Digital Forum, London is the best city in Europe for digital entrepreneurs looking to start and scale up a digital business. Of the 35 European tech hubs that were surveyed, London ranked highest in terms of access to capital, entrepreneurial culture and quality of research institutions, outperforming other major European cities such as Paris, Berlin and Amsterdam.
Geoff Mulgan, Chief Executive of Nesta added: "Our research showed that London has become Europe's best city for helping digital start-ups to thrive and scale. It's got unrivalled access to capital, a strong entrepreneurial culture, and knowledge spillovers - and, because of this, is pulling in lots of digital entrepreneurs from around the world as well as a remarkable volume of investment."
Further research by London & Partners found that Israeli tech companies are being attracted to London by the record level of investment flowing into the sector, with Venture Capital investment into London already at record levels and reaching over $1.7 billion since the beginning of the year, eclipsing the $1.3 billion raised in the whole of 20142.
Venture Capital investment into Israel is also strong, with London & Partners research showing that levels of investment into tech are similar to London – it has reached over $4 billion in the last five years.
Speaking alongside the Mayor at the event at Google's 'Campus Tel Aviv', Meir Brand, Managing Director EMEA Emerging Markets for Google, said: "Tel Aviv and London are two of the most exciting technology hubs, and Israel and the UK are increasingly influential centres of innovation. Both foster entrepreneurship, have first class tech talent, and are attractive to investors. Google set up its first Campus for start-ups and developers in London - and its second in Tel Aviv. I'm sure that collaboration and partnerships between the tech communities in Israel and the UK will flourish even more in years to come."
Gordon Innes, CEO of London & Partners, the Mayor's inward investment company said: "Israel is a natural partner for London for trade and investment. With complementary strengths in terms of access to capital, a strong culture of entrepreneurship and a business friendly policy environment, there are many opportunities for collaboration. But London offers Israeli companies greater chance to internationalise and scale. With record levels of growth capital being pumped into London's tech sector and easy access to international markets, there has arguably never been a better time for an Israeli tech company to use London as a springboard for growth into Europe, the US and beyond."
The 16 companies from London exhibiting at the Google campus event represent two of London's fastest growing digital sectors – education technology and urban solutions. London leads the way in the development of urban solution technologies, a global market estimated to rise to $408 billion by 20203. The capital has pioneered innovative smart cities technologies including the introduction of programmes such as the London Datastore - one of the first platforms worldwide to make public data open and accessible
According to a recent report by London & Partners and Edtech UK, the global education technology sector is worth £45bn in 2015 and poised to reach £129bn by 20205. Ian Fordham, CEO of the UK's education technology strategic body, Edtech UK, said: "The UK is home to some of the world's leading schools, colleges, universities and education businesses. The companies accompanying the Mayor on this trip are proof of the UK and London's strength in this fast growing sector. With over 200 edtech start-ups in London and more world-class universities than any other city in the world London can become the edtech capital of the world."
While in Tel Aviv the Mayor will also host a reception expected to attract hundreds of representatives of the local business community. He will tell them that London should be their first priority when considering business markets outside Israel and urge them to follow the example of two Israeli companies who will confirm today that they are expanding their operations in the capital.
Apos Therapy is a business specialising in easing knee and back pain that was founded in Israel in 2005, but they are now putting Britain at the heart of their European operations by confirming that their new European headquarters will be in London. The capital's highly skilled clinical work force and the size of the market have proved the perfect lure for Apos to choose London as their gateway into the European market.
Elad Duschak, President, AposTherapy UK & Global Chief Marketing Officer, said: "London have been a great hub for us to engage and collaborate with the medical community and leading healthcare providers. We are looking forward to further expand our presence within the capital's health system and make AposTherapy more widely available for patients. Thanks to the support of London and Partners and UKTI Israel we have been able to expand nationally and export globally!"
Clarisite are an Israeli software company specialising in the analysis of customer behaviour. Today they will confirm that they have now decided to make London their global headquarters due to the access that the city gives them to the world's leading global financial services and insurance companies.
Clarisite is a disruptive provider of Digital customer experience. It provides advanced solutions for Digital behavioural analytics as well as risk management & compliance for Financial Services institutions. Today they will confirm that they have now decided to make London their global headquarters due to the access to the world's leading global financial services and insurance companies, as well the infrastructure and support the city of London and the British Government are providing.
Yaron Morgenstern, Clarisite's CEO who is based in London said: "We are excited to expand our operations in London and to make it our Global Headquarters. Operating from the heart of the Financial Services Industry the support we are getting from London and Partners as well as UKTI Israel presents a great opportunity for us and allows us to best serve our Global clients".
The Mayor's business reception is being sponsored by Bank Leumi who are launching 'LeumiTech' - a suite of financial products and services tailored to the needs of Israeli start-up companies operating in London. They were drawn by the huge wave of Israeli hi tech companies choosing London as their number one destination to open new businesses, launch and expand current businesses. And they believe their programme will help accelerate the cooperation between Israeli and UK high tech companies and will contribute to innovation and technological breakthroughs.
Bank Leumi's new programme sees them come full circle as the Bank was established in London 113 years ago, and is now launching its services there for the companies of the next century.
Published 11 November 2015