Press release
MAXIMUS appointed to carry out health assessments for the Department for Work and Pensions
MAXIMUS Health and Human Services Ltd has been awarded the contract to undertake health-related assessments, DWP announced today (30 October 2014).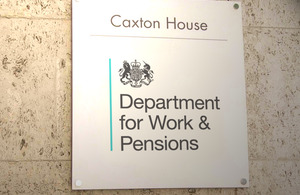 The contract will cover a number of assessments including the Work Capability Assessment (WCA), which is currently carried out by Atos. In March this year the government announced that it had reached a settlement with Atos to exit its WCA contract early.
The new contract is part of a concerted drive to ensure that people who need an assessment get the best possible service. Since 2010 there have been 4 independent reviews of the WCA and the government has implemented the majority of the recommendations.
A key part of this drive will see MAXIMUS take on a significant number of additional healthcare professionals to undertake assessments.
Minister for Disabled People Mark Harper, said:
We are committed to supporting those people who can get back into work and break the cycle of benefit dependency. Where people can't work, we are clear that we should support them to live independent lives.

Our determination not to write off benefit claimants, but instead seek to move more people into work, has been a key factor in this government's success in helping people into work.
MAXIMUS Chief Executive Richard A. Montoni said:
Assessments for people who need health-related benefits should be timely, respectful and fair. Our goal is to improve the overall customer experience by addressing certain challenges that exist today.

First, we want to reduce waiting times without compromising quality by bringing in more health care professionals. Second, we want to improve the quality of the assessment through a number of initiatives, such as expanding the number of medical professionals who specialise in mental health and understand how fluctuating conditions can be better reflected in assessments. Finally, we want to make the assessment process more straightforward by introducing new ways to help customers complete forms and access sources of independent advice.
The new contract will run from March 2015 for an initial period of 3 years. MAXIMUS specialises in delivering health and employment services for governments across the world. It is already a key Work Programme provider in the UK and was recently awarded the contract to deliver the new Fit for Work service.
To make sure that there is a seamless transfer from Atos to MAXIMUS most of the Atos assessor healthcare professionals will transfer to MAXIMUS, which will also use the existing Atos infrastructure.
On top of recruiting additional healthcare professionals, MAXIMUS also plans to make further improvements to people's experience of an assessment and will seek to continually improve the service they offer. It will increase the number of specialists who conduct assessments, including experts in mental health. They will also spend more time with people before their assessment to fully explain the process and provide Disability Awareness training for all staff.
More information
Read the Written Ministerial Statement.
The Fit for Work service will help employers and their staff to manage sickness absence and aid the return-to-work process. Read more about the Fit for Work service.
Read details of the announcement made to announce the early exit of Atos.
MAXIMUS plays a critical role in helping governments achieve their goals by providing services to the most vulnerable people in the communities it serves. MAXIMUS has a team of more than 11,000 dedicated professionals across the United States, Canada, Australia, the United Kingdom and beyond. MAXIMUS runs healthcare programmes in Australia, Canada and the United States and is one of the largest occupational health providers in the UK. MAXIMUS employs large numbers of doctors, nurses and healthcare professionals and brings years of experience conducting independent health assessments and health appeals.
The Department for Social Development (DSD) in Northern Ireland have separate contract arrangements in place for the provision of this service.
Contact Press Office
Media enquiries for this press release – 0203 267 5116
Press Office
Caxton House
Tothill Street
London
SW1H 9NA
London Press Office (national media and London area enquiries only – not questions about personal claims) 020 3267 5144
Out-of-hours (journalists only) 076 59 108 883
England and Wales (local media enquiries) 029 20 586 then 097 or 098 or 099
Scotland (local media enquiries) 0131 310 1122
Follow DWP on:
Published 30 October 2014