World news story
Matthew Hancock explores education initiatives in New York
Minister Matthew Hancock visited schools in New York to learn more about their local education initiatives and innovative programmes.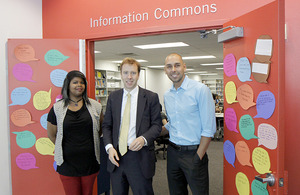 On 30 May, Matthew Hancock, the Parliamentary Under Secretary of State for Skills, visited the Stella and Charles Guttman Community College (CUNY) and a school in Brooklyn, where he saw firsthand how School of One's technology programme supports student achievement.
The Stella Guttman Community College was set up in 2012 with the aim of improving the graduation rates for associate degrees. Less than 20% of community college students in the US earn an associate degree within three years. The college is taking a unique approach to address this issue: all students must attend full time; students must complete a standard core curriculum in their first year (including a course focusing on NYC and the ethnology of work); a 'bridge' programme allows students to repeat a subject they have failed with no academic penalty; and students have mandatory meetings with guidance counsellors and mentors. Less than a year into the programme, evaluation is in early stages. However, the college is optimistic about its success, as the programme is based on the achievement of the Accelerated Study in Associate Program run at CUNY's other six community colleges.
The minister also visited the David Boody Jr High School in Brooklyn, one of eight public schools in the US that operates the School of One concept, where technology is used to develop a personalised curriculum for each student. Chris Rush, School of One founder, explained how an algorithm takes up-to-date data about a student's skill level and available learning materials to create a unique schedule and curriculum for each student every day. A strong selling point for the School of One concept is that it allows a child to work at their skill level which may be above, at, or below their actual grade level.
Minister Matthew Hancock commented, "I was lucky enough to visit the David Boody Junior High School in Brooklyn and see the School of One programme in action. I was impressed with their hugely innovative use of technology in teaching."
Published 3 June 2013