World news story
Master class for future Uzbek diplomats
Her Majesty's Ambassador Mr George Edgar gives a master class for future Uzbek diplomats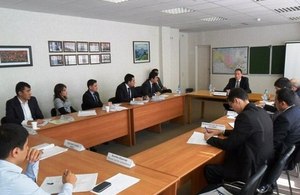 On 17 October Her Majesty's Ambassador was invited to address the Diplomatic Course at the University of World Economy and Diplomacy (UWED) under the Uzbek Ministry of Foreign Affairs, where he spoke about British diplomatic protocol and the UK-Uzbek diplomatic relationship. Around 30 course participants, consisting of junior professionals from the Ministries of Foreign Affairs, Foreign Economic Relations and Economy, the Institute of Strategic and Regional Studies under the Presidential Administration, graduate students of UWED and faculty members, attended.
Ambassador Edgar told the audience about the historical development of diplomatic protocol in the UK and its particularities in practice in various states, including the ones where he served. He explained the role of the FCO's Protocol Directorate, which among other responsibilities provides services for the London Diplomatic Corps - the staff of more than 180 Diplomatic Missions and 35 International Organisations (totalling about 23,500 people, including dependants). Protocol Directorate also organises various ceremonies with the participation of the diplomatic corps; manages meetings, conferences, summits and events throughout the UK from small meetings to international summits for 2000 or more participants; coordinates arrangements for all Guests of the British Government - Heads of State and Government, academics, politicians, senior officials and journalists and others; and arranges visits of The Queen, members of the Royal Family, FCO and other UK Ministers overseas.
Ambassador Edgar gave examples of his unique experience in managing protocol matters, including his involvement in organizing the first State Visit to the UK by South African President Nelson Mandela in 1996 and the visit of His Holiness Pope Benedict XVI 2010. The Ambassador also described his work as Additional Director Protocol for the 2012 Olympics, in making arrangements for more than 80 presidents, prime ministers and members of royalty who came to London for the Games.
In the second part of his speech Ambassador Edgar informed the audience about UK-Uzbek cooperation in political, security and economic fields, as well as the activities of the British Embassy to strengthen the relationship between the two nations. At the end of the meeting the Ambassador answered questions from the participants in the course and wished them success in their future diplomatic career.
Published 18 October 2013