Massive drugs seizure in Helmand by Afghan and UK forces
More than 700 kilograms of dry opium has been seized by Afghan forces working alongside British troops in Helmand province.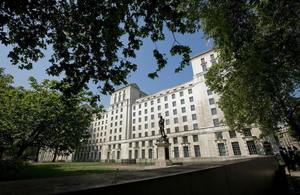 The drugs were found hidden in the back of a flatbed truck that was stopped and searched at a vehicle checkpoint run by Afghan forces, who are being partnered by British troops, in the Garmsir district.
The find is the biggest made by British and Afghan forces in the area, and such a quantity of opium could have been used to produce heroin with a street value of more than £2m.
Captain Mark Shapland, from the Royal Military Police, said:
We know that this route is used by smugglers to take drugs form Helmand province into Pakistan. Random vehicle searches are carried out by joint teams working at checkpoints along the road to root out the drug traffickers.

When we got the call about this incident, none of us could quite believe the amounts involved - we thought the detail must be wrong. We were amazed to see bags and bags just lined up in front of us - the truck was full of it.
The driver of the vehicle was apprehended at the scene and after an initial investigation by members of the Royal Military Police (RMP) was taken to a detention facility for questioning.
Once there, the RMP contacted the Counter Narcotics Police of Afghanistan (CNPA) to inform them of the arrest and seizure and arrange for the detainee to be handed over to the Afghan authorities.
Captain Shapland said the Afghan contribution is helping to improve the success of operations like these:
The Afghan forces manning the checkpoints are becoming increasingly competent thanks to the ISAF mentoring which has significantly improved their development. They have excellent local knowledge which is key to knowing if people are from outside the area or if they are acting suspiciously.

We play a role in the initial investigation at the scene and begin the process of detaining an individual but then we quickly hand the investigation over to the CNPA who through the Afghan legal system can ensure those responsible are brought to justice.
The dry opium removed from the truck will be used as evidence in a future trial before being destroyed. Due to the size of the seizure, the case will be heard at a court in Kabul.
The CNPA estimate that if the defendant is found guilty he could face up to thirty years in prison.
Published 9 May 2011