Mary Rose immortalised on £2 coin
The Royal Mint is commemorating the 500th anniversary of the Mary Rose's launch in 1511 by issuing a £2 coin depicting the famous English warship.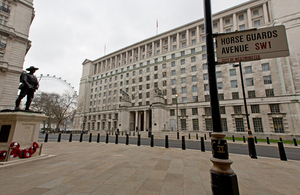 This limited edition £2 coin will enter circulation this year, finding its way into the nation's change up and down the country.
Special commemorative versions have also been struck in the precious metals gold and silver.
Created in strictly limited numbers, these coins are finished to a higher quality, showing the design in perfect clarity. They are available to purchase from The Royal Mint's website.
The coin was shown at the Mary Rose Museum in Portsmouth's Historic Dockyard, home of the salvaged wreck, alongside Tudor coins retrieved from the sunken ship.
It is released in the same year the Mary Rose Trust starts to lay the foundations for a new Mary Rose Museum to once again bring together the ship's remains with the 19,000 Tudor artefacts recovered with her in 1982.
The Mary Rose, the Tudor Navy's flagship was launched during King Henry VIII's reign but sank when she listed too steeply and the gun ports flooded during the Battle of the Solent in July 1545.
The coin depicts the ship in a design created by artist John Bergdahl, showing the grand Tudor warship in profile, in a similar scene to the only contemporary image that exists of the ship. The numerous flags and banners are recreated, flowing from tall masts, with her armament of guns visible. John Bergdahl explained the inspiration behind his design:
After a trip to the museum currently home to the Mary Rose, I was immediately inspired by the only acknowledged painting of this iconic vessel - an image that I used as the basis for my design.
Commenting on the design, Dr Kevin Clancy, Head of Historical Services at the Royal Mint, said:
The Royal Mint is very pleased to commemorate the 500th anniversary of the Mary Rose's maiden voyage in 1511 on a special commemorative £2 coin. We were especially impressed with the way the designer captured the stature and presence of this great Tudor ship on the coin.
Rear Admiral John Lippiett, Chief Executive of the Mary Rose Trust, said:
This elegant new coin is a fitting tribute to the world's only surviving Tudor warship and the finest collection of Tudor artefacts recovered with her.
"If everyone who found one of these Mary Rose £2 coins in their pocket were to donate the same amount to us at Portsmouth Historic Dockyard, where she was built, then we would complete our outstanding appeal of £3m for the new £35m Mary Rose Museum.
Without this money, the future of this national icon is not yet secured.
Published 24 February 2011