Martin Donnelly appointed acting Head of Diplomatic Service
Martin Donnelly has been appointed the acting Permanent Under-Secretary (PUS) of the Foreign and Commonwealth Office and Head of Diplomatic Service.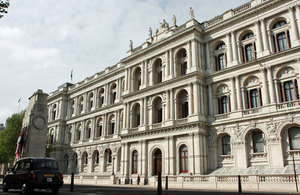 The Prime Minister today announced that Sir Peter Ricketts, who has been PUS at the Foreign Office since 2006, has been appointed National Security Adviser.
Based in the Cabinet Office, Sir Peter will be responsible for establishing new National Security Council structures, and coordinate and deliver the Government's international security agenda.
Martin Donnelly, who is currently the Foreign Office's Director-General for Strategic Finance, will take over from Sir Peter in an acting capacity.
Mr Donnelly joined the Foreign Office in 2004 as Director-General for Europe and Globalisation after holding a series of jobs across government, including the Treasury and Home Office.
Published 12 May 2010