Marriage hours restrictions removed
From today couples tying the knot will be given greater freedom of choice as time restrictions on ceremonies are removed.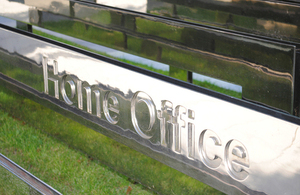 People wanting to get married or register a civil partnership will be able to do so any time of the day or night under the Protection of Freedoms Act. Couples were previously restricted to between 8am and 6pm.
Freedom of choice
Mark Harper, Home Office Minister with responsibility for the General Register Office, said: 'The public requested that we repeal this law and we listened.
'Removing these restrictions will give people greater freedom of choice when planning their big day.'
The change is permissive in that neither local authorities or religious groups are required to provide services outside the traditional hours.
Responding to the public
This change is one of a number of measures being introduced as part of the Protection of Freedoms Act, which received Royal Assent in May this year. It was raised by members of the public through a cross-government survey, 'Your Freedom'.
People had the chance to suggest ideas on restoring liberties that have been lost, repealing unnecessary laws and stripping away excessive regulation. The Act aims to put traditional British freedoms at the heart of the Whitehall agenda.
Vows at sunrise or midnight
Sarah Rapson, Registrar General for England and Wales, said:
"These changes are good news to anyone planning a wedding or civil registration ceremony as they will allow couples to make their day much more personal. They can now choose to say their vows at sunrise or even walk down the aisle at midnight.
"Following months of preparation, the General Register Office now stands ready to help deliver this new and more flexible service to the public."
Published 1 October 2012