Marking the National Lottery's 20th anniversary
DCMS celebrates good causes benefiting from lottery investment.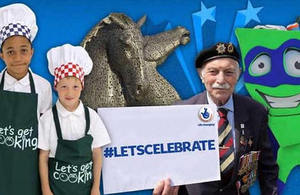 To mark the National Lottery's 20th birthday we're shining a spotlight on a range of amazing lottery funded projects around the country.
From Stonehenge to Sheffield's Botanical Gardens, over the next 3 weeks we'll be looking at a range of fascinating ways lottery money has been invested in good causes and the people that have benefited.
Projects include
Get involved
Follow us on Twitter using our #20greatprojects hashtag for the latest projects we're turning our focus on
Join us on a virtual journey around the UK via our Pinterest #20greatprojects map, which we'll be adding to daily, building a snapshot of just some of projects you can enjoy around the UK.
About The National Lottery
Set up in 1994, The National Lottery donates £33 million each week to a wide range of lottery good causes. Find projects in your area.
Published 26 November 2014