Marking International Women's Day
Foreign Secretary William Hague paid tribute to those working to advance the human rights of women around the world ahead of International Women's Day.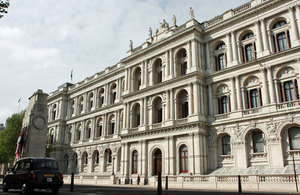 "International Women's Day is a time to renew our commitment to the empowerment, education and advancement of women and girls around the world. I pay tribute to all those working to advance the rights of women, often in difficult and dangerous circumstances, and often without recognition. I especially acknowledge the role that many courageous women have played throughout the Arab Spring.
"Women's right and human rights will remain at the heart of British foreign policy. In countries where women's rights do not exist, we want them put in place; and in countries where they do exist, we want to see them implemented in a meaningful way. No country can address its problems by drawing only on the talents of one of the sexes. No society can be free while the rights of one half of its citizens are curtailed. No lasting peace can be achieved after conflict unless the needs of women are met. Internationally, we cannot hope to find just and equitable solutions to global problems unless women are involved at every stage. So Britain will continue to work in practical and meaningful ways to support women's leadership and participation worldwide"
Foreign Office Minister for Human Rights Jeremy Browne said:
"Discrimination and violence against women and girls remains one of the most widespread human rights abuses. That is why tackling this issue is a priority for the UK and central to our work to advance gender equality and empower women. As long as violence and discrimination continues, our efforts to achieve global security and development will be undermined, affecting the lives of millions of women and girls worldwide.
"We are committed to supporting innovative new projects to promote women's rights globally and reduce the impact of conflict on women and girls. In Guatemala, we provided financial and logistical support to a campaign to bring about real generational change to the perception that violence against women and girls was normal. The campaign has more than 29,000 followers on Facebook and culminated in a spectacular event involving a human chain from the bottom to the top of the iconic Agua Volcano, giving the message loud and clear that violence in the home is not acceptable. In Libya, we are encouraging full participation by women in politics, society and the economy as we recognise that this is crucial to creating a fair and open new Libya. Women have played an important role in the revolution from the beginning, and the UK will continue to support them."
Foreign Secretary on Facebook
To mark International Women's day the Foreign Secretary has invited several women to write guest entries on Facebook page. Read and comment.
UK & overseas coverage
Our bloggers
The FCO will also be screening "The Whistleblower" to mark the day. The film depicts a policewoman who enrols to serve as a peacekeeper in post-war Bosnia and Herzegovina, whose expectations of helping to rebuild a devastated country are dashed when she uncovers a dangerous reality of corruption, human trafficking, and sexual exploitation. UK Government action on Women, Peace and Security is a key element of our Building Stability Overseas Strategy (BSOS) as women have a central role in building stability and resolving conflict.
Published 9 March 2012