Market exploration: telexistence
The Defence and Security Accelerator (DASA) are scoping for an innovation competition exploring merging haptic and robotic technologies with telepresence capability.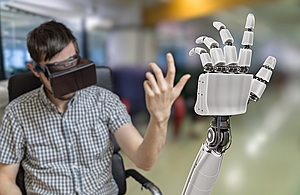 Summary
The Ministry of Defence (MOD) is looking at how telexistence capabilities can benefit UK defence and security. On behalf of the Chief Scientific Adviser's (CSA) Emerging Technologies for Defence (ETD) Programme, the Defence and Security Accelerator (DASA) and the Defence Science and Technology Laboratory (Dstl) are exploring the utility of telexistence capabilities.
A telexistence capability can be defined as a system, or system of systems, which allows a human user to operate in an environment without physically being there. This could be achieved by using a remotely operated avatar, which relies on the integration of:
telepresence (which enables the user to see and hear as though in the remote environment)
robotics (which enables the user to interact with the remote environment)
haptic feedback (which provides sense of touch)
In this Market Exploration activity, we are looking to understand the maturity of the technology (including its associated components) in the external marketplace and its potential application in the defence and security domains. This work will help to identify gaps in order to direct potential future investment.
This Market Exploration is not a commitment to subsequently launch a formal DASA competition.
Background
Developments in remote, robotic and sensory technologies in recent decades have led to an increased ability to operate differently in challenging environments. For defence and security communities, this includes significant steps to remove the need for people to be present in potentially hazardous locations.
The field of telexistence has emerged from the combination of three generic technology groupings: telepresence, robotics and haptics. Telexistence has been identified as a means by which skilled operatives can transfer their practice to a remote location, which can enhance the speed by which a user is deployed. It can also be used to keep people safe by reducing the risks associated with physically operating in a hazardous environment, for example: explosive ordinance disposal (EOD), Chemical, Biological, Radiological, Nuclear (CBRN), space exploration, firefighting etc.
Solution Requirement
This Market Exploration aims to better understand the technology readiness level of the components of telexistence systems in isolation and/or together (a system of systems) to inform future investment. Potential solutions should allow a user to interact with or immerse themselves in a remote location as if they were physically there. The telexistence solution:
should mitigate the risk associated with operating in hazardous domains
must be able to be tangibly demonstrated and allow the operator to interact with the environment in real-time
can include elements of artificial intelligence but must permit the operator to remain in the loop
Suppliers should provide examples of potential use cases within defence and security.
Sub Requirements
A telexistence capability would require the integration of telepresence, robotics and haptic feedback, the requirements of each of these components are provided below. In your submission, we ask that you outline which of these requirements your solution can/could deliver. You do not have to address all sub requirements to respond.
telepresence platforms: the solution must have audio-visual capability and have the potential for the individual to feel fully immersed in the environment. The solution must have the ability to integrate robotic and haptic components into the system.

robotic systems: the solution must be mobile and have the capacity to function (move) in response to the operator's commands, in real-time. The solution must have the ability to integrate telepresence and haptic components into the system. Submissions should indicate potential operating environments.

haptic sensory information: the solution must be able to transmit sensory (haptic) information to the human operative. Solutions must be able to demonstrate real-time motion capture, positional and rotational tracking. The solution must sense and provide real-time feedback on at least one of the following: kinaesthetic force, cutaneous force, temperature, vibration. Whilst not essential, we are also interested in systems that can operate to levels of fine dexterity. The solution must be able to tangibly demonstrate the ability to perform simple-complex motor tasks.
What we don't want
We are not interested in receiving ideas for literature reviews that respond to the requirements or sub-requirements of the solution.
We are not interested in paper-based concepts.
We are not interested in consultancy proposals.
We are not interested in non-technical solutions which deviate from the haptic, telepresence or robotics sub-requirements.
This is not a competition and therefore we are not asking for costed proposals at this stage. This is a market engagement request for information exercise and we do not commit to subsequently launch a formal DASA competition.
How to submit
Responses to this Market Exploration must be submitted via the DASA submission service, for which you will need to register.
You will be asked for a title and short summary of your innovation, followed by questions related to your capability. We are seeking to understand what and how much further development is required for a complete solution to all requirements, or whether a combination of separate solutions is required. The information you provide will assist in developing a statement of requirements for potential future activities.
Submissions must be submitted by midday on 27 April 2020.
Please only provide details of one product/capability per form. If you have a number of potential solutions, then please submit multiple forms.
If you have any questions then please email accelerator@dstl.gov.uk with "Telexistence" in the subject line.
How we use your information
Information you provide to us, that is not already available to us from other sources, will be handled in-confidence. By submitting, you are giving us permission to keep and use the information for our internal purposes, and to provide the information onwards, in-confidence, within UK Government. The Defence and Security Accelerator will not use or disclose the information for any other purpose, without first requesting permission to do so.
Published 16 March 2020