News story
Mark Prisk offers £100k Right to Buy discount to the capital's social tenants
Mark Prisk has opened the door for London's council tenants to take up their Right to Buy with an increased discount of up to £100,000.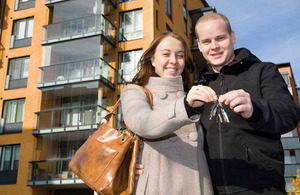 In April, the government reinvigorated the Right to Buy by increasing the maximum cash discount from as low as £16,000 in places to £75,000, helping thousands more tenants fulfil their homeownership aspirations.
But from today (25 March 2013), in recognition of higher property prices in the capital, social tenants with the Right to Buy or Preserved Right to Buy will be eligible for a discount of up to £100,000 off the value of their home.
A helping hand for Londoners
Today's move confirms the government's commitment to the Right to Buy and recognises the valuable role it has played in helping millions of social tenants achieve their dream of homeownership.
Since April, tenants looking to buy have been eligible for up to £75,000 off the value of their property - quadrupling the discount in many areas.
This has led to a surge in interest, with 3,500 Right to Buy sales nationally since April - a third more than in the whole of the previous year and the highest number of sales since 2007.
But with property prices in the London higher than anywhere else in the country, council tenants there need additional help to get on the property ladder - of those 3,500 sales, only 535 were in the capital.
So from today, Right to Buy discounts in the capital are increased to a maximum £100,000 - giving more Londoners a chance to own their council property.
The increased discount could apply both to prospective applicants and to everyone who currently has an application going through the system.
Housing Minister Mark Prisk said:
"I'm determined that anyone who aspires to own their own home and can afford to should get the help they need to do so. That's why we've reinvigorated the Right to Buy with discounts quadrupled in many areas.
"But in London, higher property prices have meant fewer council tenants have been able to benefit from this renewed deal. That's why, from today, we've increased the maximum discounts available in the capital to £100,000 - bringing home ownership within reach of even more Londoners.
"I would urge anyone interested in taking up their Right to Buy to go online or call our dedicated call centre to find out more about the discounts on offer."
Budget help for aspiring homeowners
The increase in discounts in London is one of a range of measures announced in last week's Budget, designed to help aspiring homeowners.
Other measures included:
a pledge to simplify the Right to Buy application process, and lowering the eligibility criteria so tenants can apply to buy their homes after 3 years instead of 5;
introducing a £3.5 billion Help to Buy: equity loan scheme, which will build on the success of the FirstBuy and NewBuy schemes to help up to 74,000 homeowners take their next step on the property ladder with just a 5% deposit
plans to introduce a Help To Buy: mortgage guarantee, which will enable lenders to use £12 billion in government-backed guarantees to offer mortgages with smaller deposits on new and existing properties
Further information
Social housing tenants who want further information on Right to Buy eligibility, discount levels and how to apply, can go to the Right to Buy website; call our helpline on 0300 123 0913 or contact their landlord.
Published 25 March 2013