News story
Mark Prisk challenges councils to find stable homes for families
Minister offers £2 million and presses 15 councils to raise their game.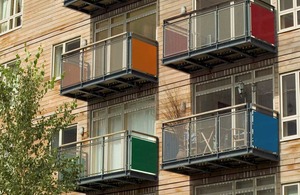 Housing Minister Mark Prisk today (6 June 2013) called on all councils to reduce the number of families stuck in bed and breakfast accommodation.
Figures published today show that of the 760 families placed in bed and breakfast accommodation for longer than 6 weeks, nearly 80% came from 15 councils.
The minister said that while most local authorities ensured families at risk of homelessness were not placed in this unsuitable accommodation for longer than 6 weeks, a minority still needed to raise their game and use the support available from government to meet their legal duty.
Adopting the "Gold Standard"
To tackle the issue Mr Prisk is offering councils nearly £2 million to address the problem and adopt the "Gold Standard" approach to homelessness.
Under this system councils will test new solutions and learn from neighbouring areas who have managed to turn the situation around. By sharing and spreading best practice, all councils can ensure that vulnerable families across the country can find a stable, suitable home as soon as possible.
Learning from the best performers
Mr Prisk said there were enormous differences between the minority of poorly-performing councils and their neighbours, with:
3 quarters of councils across the country are managing to keep local families out of bed and breakfasts altogether
2 thirds of councils in the capital with less than 10 families in this situation - despite facing the same pressures as many neighbouring boroughs
Other councils are already leading the way in reducing numbers:
Croydon council has reduced the number of families stuck in bed and breakfasts from 200 to just 62 in 6 months
Barking and Dagenham have reduced their numbers by a quarter in 3 months from 73 to 53
He praised their efforts, and urged struggling councils to learn from their example.
Housing Minister Mark Prisk said:
There's a huge variation in how councils help the homeless, especially when it comes to finding them a stable home.

Some councils are already doing great work but it's clear we need to spread this best practice across all councils. By doing so and offering financial support we will ensure that families have a much better chance of getting a stable home for the long term.
Councils joining the Gold Standard must commit to preventing homelessness. This involves tackling 10 local challenges, which include a requirement to abide by the law when housing families in bed and breakfast accommodation.
The first councils to receive the Gold Standard will share their learning with other councils. These locally led schemes, supported by the National Homelessness Advice Service, began in April this year, and more than 70% of councils have already pledged to adopt the standard in their area.
Further information
The 15 councils invited to bid are:
Barking and Dagenham
Birmingham
Brent
Crawley
Croydon
Hammersmith and Fulham
Harrow
Hillingdon
Hounslow
Milton Keynes
Redbridge
Reigate and Banstead
Tower Hamlets
Wandsworth
Westminster
Councils are invited to bid for today's £1.8 million funding. Half the cash will be provided up front, with the remainder to be received upon success.
The Bidding Prospectus for the funding can be found on the Department for Communities and Local Government website.
Statutory Homelessness statistics are available for download.
See the 9 April 2013 news story for further information on the Gold Standard.
Published 6 June 2013
Last updated 7 June 2013
+ show all updates
Updated the number of councils from 16 to 15.
First published.