News story
Boost to councils and communities through the New Homes Bonus
The New Homes Bonus scheme pays over £1 billion to councils backing growth.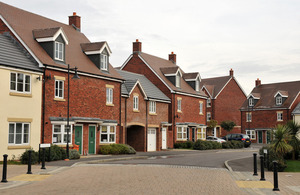 Council efforts to get Britain building are to be rewarded with a multi-million pound New Homes Bonus, Housing Minister Mark Prisk announced today.
Over the next year, England's 353 councils are set to share a cash payout of £661 million, after delivering 142,000 new homes, including 58,000 affordable properties.
This funding also rewards councils for bringing 13,000 long-term empty properties back into use.
Today's provisional allocation, to be paid in the 2013 to 2014 financial year, means councils will have received £1.3 billion through the New Homes Bonus scheme since its launch in April 2011.
This total recognises over 400,000 new builds and conversions, and over 50,000 empty properties being brought back into use.
The minister argued that the New Homes Bonus had proved critical in ensuring communities see the benefit of housing growth in their area.
Mark Prisk said:
"For years, developers found themselves at loggerheads with communities unconvinced that their plans for growth would benefit them. But the New Homes Bonus is turning this around.
"The £1.3 billion paid out to councils to date has meant that now local people are able to see the rewards of new developments in their area - paving the way for thousands of much-needed, locally-supported homes to be delivered across the country."
Getting Britain building
Councils across the country have made the most of this additional funding to directly benefit their local communities. These include:
North Tyneside Council, which has allocated some of its New Homes Bonus funding towards a £3.1 million revamp of a library which overlooks a Georgian square in the heart of North Shields. The library scheme forms part of the regeneration of the square, which also includes the refurbishment of properties, bringing it back into residential use for the first time in decades.
Warwick Council, which has entered in a 10-year partnership with the Waterloo Housing Group to deliver new affordable homes in the area, with all New Homes Bonus payments generated by additional new homes built recycled back into the scheme to deliver additional housing and bring empty homes back into use.
Uttlesford District Council is allocating some of its New Homes Bonus to fund a hi-tech shelter for teenagers in a new play park at Carver Barracks. Those using the shelter can generate their own power through crank handles located around the room, with the energy generated able to support the use of Bluetooth and MP3 players. The idea for the project came from a committee - The Rowney Community Park Fund - made up of soldiers' wives.
Further information
A full list of provisional allocations of New Homes Bonus for the 2013 to 2014 financial year can be found here.
Published 10 December 2012