Marines motor workshop strikes gold
The project, commissioned by the Royal Naval Estates Organisation (RNEO) who identified the requirement for a new workshop and servicing bay…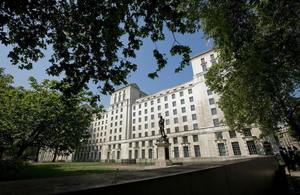 The project, commissioned by the Royal Naval Estates Organisation (RNEO) who identified the requirement for a new workshop and servicing bay for the MT section, was recognised for its flexible programme of works, designed to benefit the Marines, who are currently deployed in Sangin in Afghanistan.
Offices and stores for the Logistics company, and covered parking for the unit's fleet of vehicles, were also provided within the project.
DE's Regional Prime Contractor for the South West, Debut Services Ltd, completed one of the three new buildings early so it could be converted into a temporary workshop. This in turn allowed the old workshop to be demolished, enabling construction on a new medical facility to start early.
In addition, special measures were employed by the construction team to allow Marines who were on leave from a tour of duty in Afghanistan to enjoy their summer ball uninterrupted.
Graham Martin, DE's project manager, said:
The three building design was developed in order to minimise excavation and disposal from the sloping site, and to achieve a finished product which "sits" in the landscape in a sympathetic way.
Collaborative working relationships and a flexible approach to programming all contributed to a successful outcome, and a well-deserved gold award from the considerate constructors scheme. This is an excellent achievement in recognition of a well-run project.
The new motor transport workshop and servicing area at Norton Manor camp were completed in February 2009, replacing existing facilities which dated back to World War II. The workshop facilities incorporate a full coverage gantry crane, new recessed vehicle lifts capable of lifting 30 tonne vehicles, along with a re-used rolling road and brake tester, metal working equipment, and local exhaust ventilation equipment.
Graham added:
During the design phase, it became apparent that a lot of the unit's existing vehicles were to be replaced with the new "Man" vehicles and Vikings, so the design was amended to ensure that door sizes etc allowed for the new vehicles to be accommodated.
The covered parking was provided with controlled humidity equipment (CHE) in order to preserve the long-term condition of the vehicles.
"It has been recognised by the customer in recent years that CHE offers better value for money and ensures vehicles are ready to deploy at short notice, having been prepared for operations before being put into the CHE facility."
40 Commando Royal Marines have had a busy few weeks since deploying to Helmand province in April. Last week they seized 40kg of homemade explosives and equipment for making improvised explosive devices (IEDs) during a raid on an insurgent compound near Sangin. They've also been distributing 'wind-up' and rechargebale radios in an effort to bring local government closer to the people of Sangin.
Published 26 May 2010