Marine projects must get off drawing board and into the water - Hendry
The UK's ambitious marine energy revolution could be further enhanced by support and cooperation at an international level, Energy Minister …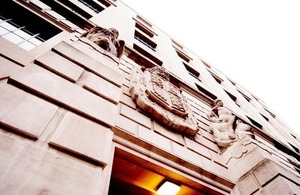 The UK's ambitious marine energy revolution could be further enhanced by support and cooperation at an international level, Energy Minister Charles Hendry said today. His call came as EU member states published a report calling for funding and support from the EU Commission to drive forward marine energy.
The UK has already set out ambitious plans to make the UK a leading destination to invest in marine energy, including:
setting out plans to significantly boost the financial support given to wave and tidal power
pledging up to £20m to help fund demonstration of the first marine arrays in the UK, and
publishing proposals to move marine energy from prototype testing to commercial deployment over the coming decade.
Building on this, today the UK joined Denmark, France, Ireland, Norway, Portugal and Spain - and Belgium and the Netherlands who have research and supply chain interests - in backing a paper that states marine energy could:
employ up to 26,000 people directly across the European Union in 2020, rising as high as 314,000 by 2050
satisfy up to 15% of EU energy demand by 2050, and
generate over €450m of investment by 2050 and new opportunities for coastal communities across Europe
Charles Hendry, Minister of State for Energy, who endorsed the paper at today's EU Energy Council, said:
"There is an abundant energy resource in European waters and there is a clear appetite from individual states to make the most of it.
"Here in the UK we have set out ambitious plans to be a world leader in marine energy and get projects off the drawing board and into the water. And more international cooperation can help bring marine energy forward faster, develop supply chains, and support jobs."
However, the report warns that without EU-level support there is a significant risk that these benefits will not materialise, and that the EU's competitive advantage could not be fully exploited. EU-level action would provide the industry with greater certainty, facilitate the exchange of best practice and help develop the necessary technology and industrial supply chain capacity.
---
Notes for editors
Download the paper, Towards European industrial leadership in Ocean Energy in 2020 from the DECC website.
The UK Government's Renewable Energy Roadmap was published in July 2011.
Published 24 November 2011