Marine Management Organisation Chair Chris Parry steps down
The Secretary of State has accepted the resignation of Chris Parry as Chair of the Marine Management Organisation (MMO).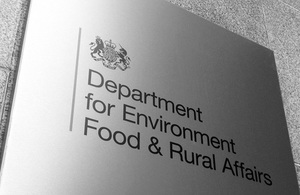 He will step down on 30 November 2010.
Since his initial appointment as Chair designate in July 2009, Mr Parry has been the driving force in successfully setting up the MMO, ensuring its launch to time on 1 April 2010 and establishing it as an exemplary public body now fully discharging the functions granted to it by the Marine and Coastal Access Act 2009. The Government has accepted Mr Parry's decision with regret but respects his reasons, and is grateful for the energetic service and strategic leadership he has given to the MMO.
Mr Parry said:
"I have devoted all my time to setting up and ensuring the future success of the MMO and I judge the time to be right to commit more time to my business and academic career. I feel proud of the MMO's achievements and am confident that, with the Board and Senior Executive Team, it is in good hands as it goes forward. I look forward to remaining engaged with issues associated with the marine and coastal area."
The Secretary of State has announced that Dr Derek Langslow CBE will be appointed as interim Chair until such time as a full, open appointment process can be carried out.
Jayne Scott will be appointed as interim Deputy Chair. The appointment will be reviewed following the appointment of the Chair.
All appointments to MMO are made on merit and political activity plays no part in the selection process. However, in accordance with the original Nolan recommendations, there is a requirement for the political activities of appointees to be made public. Dr Langslow CBE and Ms Scott have not declared any political activity.
The appointments have been made in accordance with the code laid down by the Commissioner for Public Appointments. The Commissioner is independent of the Government and was appointed to follow up certain recommendations of the Nolan Committee. The intention of the Code is to provide an efficient and transparent appointments system in which both candidates and the public can have confidence.
Notes
The Marine Management Organisation was vested on 1 April 2010. It was established under the Marine and Coastal Access Act 2009, to act as the UK Government's principal delivery body in the marine area and be its centre of marine management expertise. The MMO contributes to the achievement of sustainable development by bringing together delivery of a number of marine functions within a single independent body.  It carries out a wide range of activities such as marine planning, licensing, work related to nature conservation and fisheries management.
Mr Parry was appointed on 2 July 2009 as Chair designate of the MMO.  He became Chair in February 2010 when the provisions of the Marine and Coastal Access Act 2009 relating to the MMO were commenced.
He has an extensive private sector career as a writer, broadcaster and speaker, military theorist and strategist.
Dr Derek Langslow CBE has extensive experience as a non-executive director. He is a board member of Passenger Focus (a Ministerial public appointment with remuneration of £16,331 pa) and a Trustee of the Natural History Museum. Previously he was Chairman of East of England Tourism, Deputy Chairman of Harwich Haven Authority and a non-executive director of British Waterways and the Heritage Lottery Fund.  He trained as a biochemist at Cambridge University and lectured at Edinburgh University.  He was Chief Executive of English Nature (1990-2000).
Jayne Scott has extensive experience as a non-executive director, currently holding Ministerial appointments with Ofgem (remuneration of £25,000 pa plus £3000 allowance as Audit Committee chair) and the Council for Healthcare Regulatory Excellence (remuneration £7,880 pa). She was also previously Deputy Chairman of ENTRUST. She is a qualified Chartered Accountant, having worked for Price Waterhouse Coopers, Lothian Health Board and Fife Health Board. She now has her own consultancy company, the Scott Ross Partnership, which focuses on the health and education sectors.
The interim Chair will be entitled to a fee of £90,000 pro rata per annum based on an average time commitment of eight days a month, and the interim Deputy Chair £82,912 pro rata per annum based on a time commitment of four days a month.
Derek Langslow and Jayne Scott have been appointed from the current MMO Board.
Published 1 November 2010