World news story
Marie-Ange Symmonds blogs about her internship at British High Commission, Bridgetown
My short five weeks at the British High Commission have come to an end and it has been a phenomenal learning experience.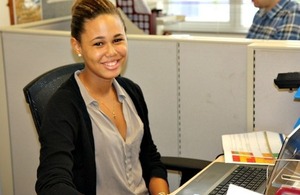 Often people wonder what really goes on in a foreign office and I surely can say I now know. Through the internship program I was given the opportunity to spend a week in each department – Chancery, UKTI, Consular, Corporate Services and DFID. Can I say so much to do so little time? I was given a day by day schedule with lots of interesting material but we often diverted a little bit.
Chancery came first. Here I was able to get an understanding of the political relations and negotiations between the UK and Barbados and the Eastern Caribbean. I researched various United Nations voting statistics and compared each Caribbean island's position to the Uk's. I was even given a taste of IT and website development that week as I assisted with the data entry of legal documents for the new 'Eastern Caribbean Law' website - www.easterncaribbeanlaw.com.
Second was UKTI. Just like you reading this blog I had no idea what UKTI really was or what the acronym even stood for. UKTI or UK Trade and Investment encourages foreign investment to the UK and promotes the success of UK businesses through exports. I was well briefed and quickly got to work researching renewable energy, its importance in the region, and any potential opportunities for UK companies in the renewable energy sector.
My third week was spent in the Consular section. Consular? What is consular? Well despite popular belief consular is not just passports and visas. In fact, the Bridgetown office no longer issues either. Consular provides assistance distressed UK nationals, or those in trouble while in the Caribbean. They provide guidance and support for those in need. While in the consular section I was given the task to create a Hospitalisation Guide for UK nationals who may become hospitalised during their stay in the Caribbean. I researched information on public and private facilities in each island, what to expect and what not to expect.
Corporate Services came next. Corporate services was very interesting as I realized that they managed the whole office. Whether it be administrative work, learning and development or estates, they kept the office running smoothly. Here I helped wherever necessary, organizing stationary cabinets, creating learning and development spreadsheets and electronically moving inventory.
My last week was spent in the UK's aid agency DFID- Department for International Development. DFID Caribbean focuses on the region's economic growth and development, as such I spent my week learning about and researching some really interesting topics - From the UK's changing relationship in the Caribbean, to OECS vs CARICOM structures and then on to the upcoming SIDS conference in Samoa. The research truly excited me and has reaffirmed my love for current affairs and development issues.
All in all, each section within the office was very different, but by the end of the five weeks I would like to believe that I am now a research expert! Everyone was very friendly and all quite interesting. I am now much more aware of what working in a foreign office is like and have a greater understanding of foreign relations and international development. I have thoroughly enjoyed my time here at the British High Commission and I thank everyone for taking me in as part of the team!
Published 27 August 2014