March For Honour starts in bid to raise £1m
Four teams of Armed forces personnel have set off today on a 1,000-mile (1,600km) 'March For Honour' to raise £1m for the Royal British Legion.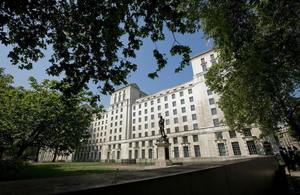 The Army, Royal Navy, Royal Air Force and Royal Marines teams set off on the epic march today from various places across the UK.
Each team aims to walk up to 250 miles (400km) of the 1,000 miles and is dedicating the march to UK Service personnel who have been killed in the Iraq and Afghanistan campaigns.
All the teams will pass through Wootton Bassett on Tuesday 9 November 2010, chosen as a meeting point because it is the town where those killed in Afghanistan are traditionally honoured in a parade when their bodies are repatriated.
The teams will pay their respects to the town and all the attending associations for their unfaltering dedication during repatriation ceremonies.
Kicking off the march today the Army departed from Cardiff Castle, the Royal Navy team set off from HMS Victory in Portsmouth Historic Dockyard, the Royal Marines started at Plymouth Hoe, and the RAF set off from the war memorial in Stamford, Lincolnshire.
Teams will complete the events in combat trousers, boots and carrying Bergen rucksacks weighted as if on operations.
The teams will march into London on 11 November 2010 to deliver the Book of Remembrance to the Royal Albert Hall for the Royal British Legion's National Festival of Remembrance.
RAF team member and RAF veteran Matthew Bennett said:
I didn't hesitate to join March For Honour in order to represent the veteran contingent for the cause.

I have always been proud to be a Veteran and since my departure from the RAF, I have been looking for a way to thank the British public for their support to Her Majesty's Armed Forces.
Meanwhile, Lance Corporal Sean Power of the Royal Marines said:
Having been a beneficiary of the Royal British Legion [RBL] myself I am acutely aware of just what a brilliant and vital job it is that they do.
"Even when the fighting in Afghanistan is over, there will be a legacy of that conflict for the next 60, 70 years, and the RBL will be there for everyone of them as long as the money keeps coming in. > > Every penny raised by March for Honour then is a penny that is going to be well spent and well received, and it is with the utmost pride that I will be able to look back and say, that I had a part to play in this momentous and extraordinary challenge.
Published 4 November 2010