World news story
Map Reveals Worldwide Impacts of Climate Change
A new map, launched at the Foreign and Commonwealth Office today, shows the impact climate change could have on the whole planet by the end of the century, if carbon emissions continue to increase.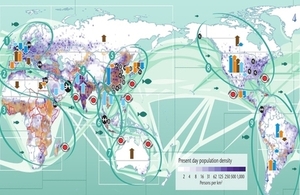 The Human Dynamics of Climate Change map, developed by the Met Office Hadley Centre shows a range of potential impacts, including some in Central America: maize yields falling by up to 12%.
The map illustrates how climate change could affect the global economy as regions connected by trade are affected by changes in crop yield, droughts, flooding and high temperatures. It also shows how many already water-stressed regions of the world could face an increase in the frequency and duration of droughts, at the same time as an increase in demand for water for agriculture and for the consumption of a growing population.
The map can be viewed here.
Foreign Office Minister, Mark Simmonds said:
"This map shows how the impacts of climate change on one part of the world will affect countries in other parts of the world, particularly through the global trade in food. This reinforces the point that climate change is a global problem: no country is immune, and we all need to work together to reduce the risks to our shared prosperity and security."
Dame Julia Slingo, the Met Office Chief Scientist, said:
"We've used the latest science to assess how potential changes in our climate will impact people around the world. This map presents that information together for the first time. While we see both positive and negative impacts, the risks vastly outweigh any potential opportunities".
The British Government considers climate change to present a great risk to our future global prosperity and security. So as well as reducing emissions domestically, the UK is also working closely with a wide range of countries to achieve effective global action to limit climate change to 2°C.
Published 17 July 2014