News story
Manchester to host Sainsbury's 2014 School Games
Maria Miller announces host city for next year's event.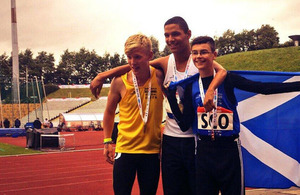 Secretary of State for Culture, Media and Sport, Maria Miller has today announced that the Sainsbury's 2014 School Games will take place in Manchester.
Building on the success of the 2013 event hosted in Sheffield, 2014 will see 1,600 of the most talented school-age non-disabled and disabled athletes competing in a city renowned for its passion for sport.
Culture Secretary, Maria Miller said:
Sport can have such a positive impact on young people's lives – improving health, boosting confidence and encouraging team work. The School Games – inspired by the London 2012 Games is at the heart of our approach to getting young people participating. I am delighted that following the success of this year's event in Sheffield the Sainsbury's 2014 School Games will be hosted in Manchester, another city passionate about sport.
Inspired by London 2012
The games organised by the Youth Sport Trust, are supported by National Lottery and exchequer funding via Sport England. The Sainsbury's School Games aims to transform competitive sport in schools and get more young people playing sport through class versus class and school versus school competitions along with county-wide sports festivals.
Jennie Price, Chief Executive of Sport England, said:
This event is a fantastic stepping stone for talented young athletes, giving them the chance to experience just what it's like to part of a major sporting event. It also gives many youngsters their first taste of volunteering which will hopefully inspire them to do more. With its strong sporting heritage, I'm sure Manchester is going to put on a great games in 2014.
John Steele, Chief Executive of the Youth Sport Trust, said:
With top quality venues and a city with a vast experience of hosting major sporting events I am thrilled that the Sainsbury's 2014 School Games is heading to Manchester. I am sure it will be a spectacular occasion and we look forward to a warm welcome.
Justin King, Chief Executive of Sainsbury's said:
We're delighted to continue our sponsorship of the Sainsbury's School Games to Manchester in 2014. Alongside our Active Kids scheme, this event is a big part of our commitment to promote school sport at all levels – within schools, between schools, at county-level and with the Sainsbury's 2014 School Games.
The Sainsbury's 2014 School Games will have an opening and closing ceremony, medal presentations, mock drug testing and an athlete's village to create the look and feel of a major multi-sports event. There will also be a strong cultural event and schools engagement programme.
Further information
The Sainsbury's School Games is supported by the DCMS, Sport England, Youth Sport Trust, Department of Health and the British Paralympic Association.
Published 15 September 2013