Press release
Man rescued from sea off Swanage after speedboat incident
A man has been rescued from the water after he fell out of his speedboat which then carried on circling around him.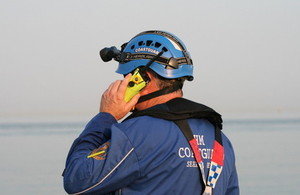 Portland Coastguard received several 999 calls just after midday on Saturday 9 August 2014, reporting that a speedboat was circling around a man in the water. There were also several people on pedalos in the vicinity. The man had been on board his boat and acting as safety boat for the pedalos when he noticed that a child was being blown out to sea on a kayak. As he was making his way towards the child, he was flipped out of his boat and into the water.
Several personal water craft were in the vicinity and assisted the man including one which was able to get control of the boat and help the man back on board.
Portland Coastguard Watch Manager Cindy Rodaway said:
We are very relieved that everyone is safe and well and that there are no injuries resulting from this incident.

This incident highlights the importance of wearing a kill cord whilst in charge of a motorboat. The kill cord, is designed to kill your engine in the event of you going overboard. All owners and drivers of open powerboats, personal watercraft and RIBs should ensure that if their boat is fitted with a kill switch and kill cord, it is correctly used. On a powerboat the kill cord should be attached securely around the thigh and on a personal watercraft it should be attached to the buoyancy aid.
Maritime and Coastguard Agency press office
Press enquiries 020381 72222 (Monday to Friday, 9am-5pm)
Outside these hours, for emergency press enquiries only please dial the above number. You will hear a message giving an out of hours pager number.
Published 11 August 2014