Press release
Man fined for operating illegal waste site
A Northumberland man has been fined for operating a waste site without a permit, following an Environment Agency investigation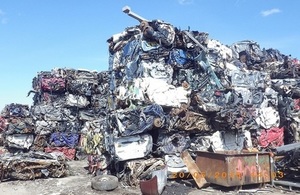 A Northumberland man has been fined for storing scrap vehicles without a permit.
William Scott Armstrong, 31, of Linton Colliery in Morpeth, appeared at Berwick Magistrates' Court on Monday, July 19.
He pleaded guilty to one offence of operating a regulated facility without a permit, and was fined £1,160, ordered to pay costs of £3,000, and a victim surcharge of £116.
Acting on behalf of the Environment Agency, solicitor Simon Crowder told the court Scott had been operating a small scale illegal waste site at Linton Colliery, Morpeth, without an environmental permit.
Permit had been revoked
A permit for the site had been revoked in October 2014, and as a consequence all waste stored on site had to be removed by January 9, 2015.
Environment Agency officers visited the site on January 14, and saw a large pile of partially crushed scrap vehicles, covering around 1,000 square metres.
Scott said he was storing the vehicles until the price of scrap metal recovered sufficiently for him to make a profit, and said he would bale the vehicles so they occupied less space in the compound. He was reminded the site needed to be cleared.
During April and May 2015 further visits were made to the site. The vehicles had been baled, reducing the storage area, and further progress had been made to clear the site. The site was completely cleared by August 2015.
Failed to clear the site
In interview, Scott said he was under the impression that Environment Agency officers had been agreeable to him baling and storing the vehicles until prices improved, something the officers disagreed with.
The Environment Agency's Rachael Caldwell, whose Waste North Team led the investigation, said:
He failed to clear the site by the date required, and was clearly told by officers during their visits that he needed to remove the vehicles from the land as he had no permit.

Permits are in place for a reason, to protect the environment and communities, and those who flout the law undermine legitimate businesses who work hard to work within their permits.
Anyone who has information about waste crimes can call Crimestoppers on 0800 555 111.
Published 20 July 2016