News story
Malmesbury honours soldiers returning from Afghanistan
Soldiers from 9 Regiment Royal Logistic Corps (RLC) marched through Malmesbury yesterday where, in addition to receiving their Afghanistan Operational Service Medals, they were awarded the 'Freedom' of the historic Wiltshire town.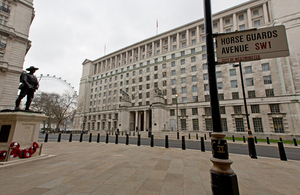 The event, which was organised by the town council, saw troops dressed in their desert combat uniforms forming up at the war memorial in Malmesbury.
From there, they were led by the Band of the Royal Logistic Corps to the town square, where around 150 personnel from the regiment were presented with their Operation HERRICK medals by the Lord-Lieutenant of Wiltshire and the Mayor of Malmesbury.
The soldiers then marched to Malmesbury Abbey where a service of thanksgiving was held, followed by a civic ceremony at the town hall. Throughout the occasion families, friends and people from the town showed their appreciation and cheered, applauded and waved flags.
Lieutenant Colonel Simon Jordan, Commanding Officer of 9 Regiment RLC, said:
To come home and receive such a massive level of support from the local community is quite amazing, and unique in my twenty plus years' service to date.
In addition, to receive the Freedom of Malmesbury is a seminal moment for the soldiers of 9 Regiment. I am proud and honoured to accept this honour on their behalf.
The parade is a celebration of the hard work conducted by the soldiers, a fitting end to a hard tour and an opportunity for the whole community to get together.
On behalf of the whole regiment I would like to thank the people of Malmesbury and the surrounding area for this fantastic display of support.
Personnel from 9 Regiment RLC completed their six-month deployment to Afghanistan in May 2010. Those deployed were mainly from 94 Squadron, with the backbone of personnel being Gurkha soldiers.
Once in Afghanistan they formed part of the Theatre Logistic Group, providing the British forces in Afghanistan with everything from bullets, body armour and medical supplies to fuel, rations, water and welfare facilities.
Most of those on parade were stationed in Kandahar and Camp Bastion in Helmand province, although there were also detachments working from Kabul and various forward operating bases.
The tour was particularly intensive due to the requirement to move the main logistic base whilst continuing to provide seamless support to the front line fighting troops engaged on busy operations.
The move took three months to complete and involved a 100 per cent stock-take being conducted at both ends of the journey - a mammoth undertaking.
Over 620 ISO containers, or 143,000 individual items, later, the task was successfully completed ahead of schedule. Thankfully, the regiment returned from Afghanistan without any deaths or serious injuries.
The regiment is now firmly focusing its attention on training personnel from 95 Squadron for possible future deployment to Afghanistan to fulfil the same role. Those on parade will be heavily involved in passing on their knowledge and experience to their colleagues to ensure that any tour they undertake is equally successful.
Published 30 June 2010