World news story
Maldives named FCO 'Human Rights Priority Country'
The United Kingdom's Foreign and Commonwealth Office (FCO) has released its Annual Human Rights Report for 2015.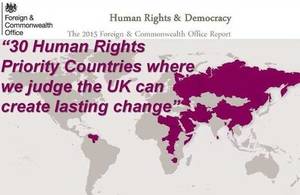 The report names Maldives among 30 'Human Rights Priority Countries' (HRPCs) where the UK has serious human rights concerns.
The Report notes with concern that in 2015, the human rights situation in Maldives deteriorated, with a sustained decline in democracy and judicial independence. Political and civil freedoms were eroded, opposition and some government figures were arbitrarily arrested, the press resorted to self-censorship, and there were worrying moves to re-introduce the death penalty after a moratorium of more than 60 years.
Noting that Maldives has a responsibility to protect human rights, the Report calls on Maldives * to work towards greater political plurality and inclusion; * the protection of fundamental freedoms of expression and assembly; * the independence of the judiciary; * and the reversal of moves to reintroduce the death penalty.
In 2016, the UK will work bilaterally and with international partners to draw attention to human rights concerns and has allotted available funding to continue targeted human rights project work.
At the launch of the report in London, UK Foreign Secretary, Phillip Hammond, said:
"The promotion of human rights is a core part of the everyday work of the Foreign Office and is the responsibility of British diplomats around the world."
The Report underlines the UK's desire to work positively with countries facing human rights challenges to help them improve their human rights performance.
The 30 HRPCs are: Afghanistan, Bahrain, Bangladesh, Burma, Burundi, Central African Republic, China, Colombia, Democratic People's Republic of Korea, Democratic Republic of Congo, Egypt, Eritrea, Iran, Iraq, Israel and the Occupied Palestinian Territories, Libya, Maldives, Pakistan, Russia, Saudi Arabia, Somalia, South Sudan, Sri Lanka, Sudan, Syria, Turkmenistan, Uzbekistan, Venezuela, Yemen, Zimbabwe.
See also
The FCO began publishing the Annual Human Rights Report in 1998 and it is now also published online along with twice-yearly updates on the 30 HRPCs.
Published 21 April 2016
Last updated 21 April 2016
+ show all updates
Divahi language version added
First published.