Press release
Malcolm Dawson OBE appointed interim Chief Executive of DVLA
Malcolm Dawson to join Driver and Vehicle Licensing Agency as interim Chief Executive.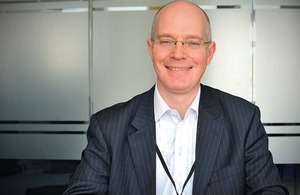 Malcolm Dawson OBE has been appointed as the interim Chief Executive of the Driver and Vehicle Licensing Agency (DVLA).
Prior to his appointment at the DVLA, Malcolm was the Chief Land Registrar and Chief Executive of Land Registry and has previously worked in a number of roles across government at the Ministry of Justice, Cabinet Office, HM Customs and Excise and the Ministry of Defence.
Department for Transport Permanent Secretary Philip Rutnam, said:
Malcolm has a strong background in leading and managing organisations across government. This extensive experience will be very valuable at the DVLA as the agency continues to transform the services it offers to motorists.
DVLA's interim Chief Executive Malcolm Dawson said:
I am very much looking forward to leading the agency and getting to know the staff.

These are exciting and challenging times for the DVLA as we continue to look at how we can give motorists better, more efficient, digital services at a time and place that suits them.
Notes to editors
Malcolm Dawson will take up his post as interim Chief Executive of the DVLA from this week. The post is for a period of 6 months and Malcolm is coming on loan from the Department for Business, Innovation and Skills who will continue to pay his salary and associated allowances as normal and invoice the department for repayment.
The DVLA is an executive agency of the Department for Transport. It is responsible for maintaining over 44 million driver records and almost 37 million vehicle records. It collects around £6 billion a year in Vehicle Excise Duty. The agency employs over 6,000 people and is based in Swansea.
The external competition for the permanent role of Chief Executive of DVLA is underway.
Roads media enquiries
Press enquiries 020 7944 3021
Out of hours 020 7944 4292
Switchboard 0300 330 3000
Published 22 May 2013