Malaysian exercise resounding success for RAF Typhoon squadron
Pilots and ground crew from Number 6 Squadron have gained priceless experience in operating the Tranche 2 Typhoon aircraft in unfamiliar conditions during Exercise Bersama Lima in Malaysia.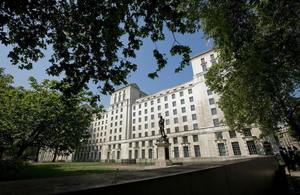 This was the first overseas deployment of Tranche 2 Typhoon aircraft and the first deployment of 6 Squadron since it reformed at RAF Leuchars in September 2010.
During the exercise, four 6 Squadron Typhoons, representing the Royal Air Force, flew mock combat sorties alongside Royal Australian Air Force (RAAF) F/A-18s, Royal Malaysian Air Force (RMAF) MiG-29s and F/A-18s, and Republic of Singapore Air Force F-15SGs and F-16s.
6 Squadron successfully completed more than 70 sorties during the detachment, amounting to 164 flying hours. Moreover, the squadron delivered 100 per cent of the sorties it planned during the exercise itself.
Severe thunderstorms and the effect of the extremely long distance on the supply chain provided engineering challenges, but the overall assessment is one of resounding success for the squadron.
Officer Commanding 6 Squadron, Wing Commander Roddy Dennis, said:
From my perspective as a Squadron Commander, Exercise Bersama Lima provided an excellent opportunity to prove Tranche 2 Typhoon's expeditionary capabilities and its ability to not only operate in tropical weather conditions and high humidity, which it did without impact, but also to conduct air operations with nations that we do not routinely train with.
In addition, the opportunity to 'fight' against the RMAF MiG-29 Fulcrum was first class and saw Typhoon very well-placed, allowing the 6 Squadron pilots to take great confidence in the performance of Typhoon and it's weapon system.
It was also extremely useful to operate closely with the deployed RAAF F/A-18s from 75 Squadron who use similar operating procedures and tactics.
Exercise Bersama Lima marked the 40th anniversary of the Five Power Defence Arrangements (FPDA) between the UK, Malaysia, Singapore, Australia and New Zealand.
Established in 1971, the FPDA is a commitment undertaken by the five nations to consult in the event of an attack on Singapore or Malaysia. It is the only multilateral defence agreement in South East Asia with an operational element.
The joint exercise saw the participation of around 4,000 troops, 68 aircraft, 18 ships, two submarines and various support elements from the FPDA member nations.
The four RAF Typhoon aircraft from 6 Squadron flew to the Royal Malaysian Air Force base in Butterworth, Malaysia, from their base at RAF Leuchars in Fife, Scotland, to take part in Exercise Bersama Lima.
The 7,000-mile (11,265km) trip took the pilots four days with stops in Jordan, Oman and Sri Lanka, supported throughout by engineers and ground crews as well as a VC10 aircraft of 101 Squadron based at RAF Brize Norton. See Related News to read more on this.
Published 21 November 2011