Malawi: UK protects poorest from devaluation difficulty
Britain will help stabilise the Malawian economy by providing urgent assistance to support the country's currency following its recent devaluation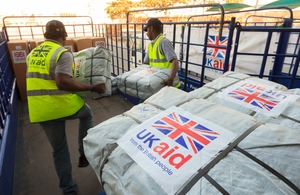 International Development Secretary Andrew Mitchell made the announcement during a visit to the country's commercial capital, Blantyre.
Britain is determined to ensure that ordinary Malawians do not suffer short term consequences from the devaluation announced earlier this month, which is regarded by the international community as a step in the right direction for Malawi's long term financial security.
Mr Mitchell will hold talks with the new President Joyce Banda and senior financial officials following the decision to devalue the Kwacha upon advice from the International Monetary Fund (IMF).
Andrew Mitchell also confirmed that, following his discussions with the Governor of the Bank of England, Britain will provide a financial expert to help the Malawian Government to deal with the devaluation.
Andrew Mitchell is in Malawi to hold discussions with the President and her senior ministers about the immediate challenges facing Malawi and explore ways the UK can provide assistance. 
His visit underlines Britain's deep commitment to the people of Malawi. Earlier this month Andrew Mitchell confirmed urgent British support for Malawi's health system, which will ensure vital vaccination programmes, equipment and health services can be provided.
During the three day visit, Mr Mitchell will also meet with representatives from civil society, the private sector, the religious community and other donors.
He will see a number of British-funded programmes in Malawi, including health clinics that provide life saving care to Malawi's most vulnerable people and the Queen Elizabeth Central Hospital, the largest government referral hospital in the country.
 
Speaking from Blantyre, Development Secretary Andrew Mitchell said:
Britain has been a long time friend to Malawi and we stand ready to help Malawi during this difficult time of transition. I have discussed with President Banda Malawi's immediate needs and I look forward to more detailed discussions with the President and her Ministers on further UK support during this visit.

The UK welcomes the peaceful and democratic transition that has recently taken place in Malawi, but growth is critical to Malawi's long term development. That is why we will support Malawi government efforts to stabilise the economy, develop the private sector, diversify the country's exports and get Malawi back onto the path of sustained growth.

We are already providing crucial support for Malawi's health service to get life saving medicine to the most vulnerable. Furthermore, to help ensure economic stability and future growth, I am pleased to confirm that the Bank of England will be providing technical assistance and will work directly with the Reserve Bank of Malawi
Ahead of the visit, Malawian President Joyce Banda said:
I am looking forward to welcoming Mr Mitchell to Malawi and to continuing discussions with him on the UK's development programme. The support from the UK is welcome, and I will be discussing with Mr Mitchell and his officials how we can best target this support to provide much needed assistance to the poor and most vulnerable.
Malawi is one of the world's poorest economies. Around 75% live on less than $1.25 a day. Its population is expected to double to 26 million by 2030.
Britain has a long and deep friendship with the people of Malawi. In the past two years alone, UK support has provided seed and fertiliser to over 3.5 million people to help them have enough food throughout the year and improved access to emergency drugs for 200,000 people.
Andrew Mitchell will also launch Britain's assistance plan for Malawi, which will be used to help stabilise the economy as well as buy critical drugs and equipment, train more health workers, scale up family planning, and ensure services are reaching the poorest.
Published 31 May 2012