Making legal aid fairer for taxpayers - consultation launched
Plans to improve public confidence in the legal aid system, tackle towering bills and make the system more efficient.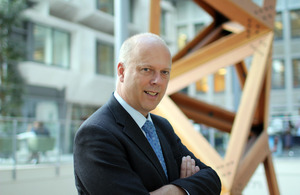 Plans to improve public confidence in the legal aid system, tackle towering bills and make the system more efficient have today been put out to consultation by Justice Secretary Chris Grayling.
The Transforming Legal Aid consultation comes at the same time as the Justice Secretary signalled his intent to explore ways of making convicted criminals pay for more of their criminal justice costs, which could include paying back their court costs and legal aid.
With criminal legal aid now costing taxpayers more than £1 billion every year, the Government is tackling areas which are destroying public confidence – such as wealthy defendants who can afford to pay their own costs routinely receiving legal aid, prisoners being given legal aid for unnecessary issues, a small amount of high cost cases swallowing up many millions in public money and immigrants who have barely stepped over the border, or may even be here illegally, qualifying for civil legal aid.
These proposals ensure we will get the best value for taxpayers' hard-earned money by cutting the costs of the most expensive cases by just under a third, introducing competition to improve efficiency and allow providers to determine the best price at which they can offer their services, and also reforming fee schemes to support earlier and quicker resolution of cases.
Justice Secretary Chris Grayling said:
"We have an excellent tradition of legal aid and one of the best legal professions in the world. But we cannot close our eyes to the fact legal aid is still costing too much. It is not free money, it is paid for by hard-working taxpayers, so we must ensure we get the very best value for every penny spent.
"Some lawyers earn hundreds of thousands of pounds from just one or two cases, and these cases can themselves cost up to £15 million each. And we've all heard of wealthy criminals with stashed millions getting legal aid to pay for their defence or of prisoners given legal aid unnecessarily.
"I am clear we will continue to uphold everyone's right to a fair trial but that doesn't mean we shouldn't look again at how the system which provides this is operated."
The consultation published today puts forward proposals to make the criminal legal aid system operate more efficiently and save £220 million from legal aid bills in 2018/19. It suggests:
Removing criminal legal aid in prison law cases that do not justify the use of public money – such as complaints about the category of prison or correspondence a prisoner is allowed. Many such cases can be addressed by the prisoner complaint system – as well as other mechanisms. This proposal is expected to see around 11,000 fewer criminal legally-aided cases brought by prisoners every year. Introducing a threshold on Crown Court legal aid to stop wealthy defendants with an annual household disposable income of £37,500 or more being automatically granted legal aid, which means we have to fight to get the money back after their trial.

Introducing a residency test so that only those with a strong connection to the UK are able to receive civil legal aid. Discouraging weak judicial review cases by tightening up the payment mechanism, only paying providers for work done on bringing a claim once the judge has agreed the case is strong enough to proceed.

Making it harder for claimants to use civil legal aid to bring speculative cases by tightening the test so that all cases must have at least a 50% chance of success to be funded. Introducing competition for legally-aided advice and representation (not including Crown Court advocacy). The current position of administratively set and unnecessarily complex fees - with over 1600 organisations providing legally-aided services across the country - does not ensure best value for money and provides little scope for businesses to adapt to changes in volumes of work or to restructure to deliver services more efficiently.

Restructuring the Crown Court advocacy fee scheme by paying the same rates to advocates irrespective of whether there is an early or a late guilty plea or a short trial. This proposal provides more incentive to complete cases as early as possible, supporting wider work to make the criminal justice system more effective. We also propose to reduce the use of more than one counsel for each defendant. These proposals, and cuts to Very High Cost Cases will target lawyers on the highest incomes, with advocates at the lower end of the scale receiving a small increase. Reducing the amount spent on Criminal Very High Cost Cases by 30%. These are the small number of long-running cases which attract a disproportionately high level of spend. Approximately £92 million was spent on these in 2011/12 and the Legal Aid Agency is currently paying rates of up to £150 per hour for preparation and £500 per day for advocacy.

Reducing certain legal aid fees paid in civil cases and to experts. These proposals will ensure that fees paid are fair and consistent with those paid for similar work, that they reflect efficiencies of reforms in the justice system and represent value for money.
Notes to editors
Read the consultation Transforming legal aid: delivering a more credible and efficient system which is open for responses from 9 April until 4 June 2013.
We have been spending £2 billion on legal aid in England and Wales a year – making it open of the most expensive systems in the world – for example we spend about £39 per person on legal aid, when countries with similar legal traditions pay far less. Canada is about £10 per head and Ireland £20 (based on 2008 figures).
We have already implemented plans to save around £320 million a year from civil and family legal aid through changes in force from 1 April 2013 under the Legal Aid, Sentencing and Punishment of Offenders Act 2012.
The majority of today's proposals are concerned with criminal legal aid, which is costing around £1 billion a year. In 2010-11 just three Barristers were paid legal aid fees over £1.5million, with some top earners receiving more than the Prime Minister or a top judge.
Under the current system for Very High Cost Cases the most expensive criminal legal aid case paid during 2011-2012 cost the taxpayer in excess of £8.5m. Under the proposed system this would be reduced to around £6m.
For more information contact the MoJ Press Office newsdesk on 020 3334 3536 and follow us @MoJPress on Twitter.
Published 9 April 2013