News story
Making immigration work for Britain
The creation of a sustainable selective immigration system that encourages the brightest and best to come to the UK was reaffirmed today by Immigration Minister Damian Green.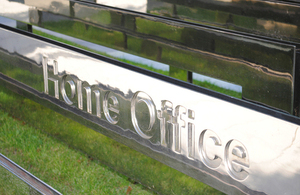 At a speech at the policy exchange, the minister expressed a desire to 'raise the tone of the immigration debate' and start building a national consensus on how immigration can be made to work for Britain.
He committed to pressing on with sweeping reforms that impose restrictions on those migrants the country does not need, while developing a greater selectivity to attract those migrants the country wants.
Damian Green said:
'We need to know not just that the right number of people are coming here, but that the right people are coming here. People that will benefit Britain - not just those who will benefit by Britain.
'We have laid the foundations for a sustainable system where we get numbers down and keep them down. Now we shall make it work for Britain.'
The government has committed to reduce net migration numbers from hundreds of thousands to tens of thousands. In the latest published quarterly figures, compared to a year previously, there are early signs of a positive impact on numbers following restrictions imposed by this government on non-EEA workers and students.
The government will soon be announcing further changes to family migration and reforms to settlement, breaking the link between temporary and permanent migration. It will also be completing its changes to eliminate abuse of the student visa route and is currently reviewing the annual limit on skilled economic migrants.
In his speech the Minister expressed his intention that the long-term transformation of British immigration policy will introduce greater selectivity. He added that the 'points based system' of the past should ultimately be replaced by a 'contribution-based system' where migrants are checked to ensure they will add to quality of life in the UK.
This is already starting with the development of more selective routes for entrepreneurs, investors and those with exceptional talent alongside existing routes for entertainers, trainees and researchers.
The minister confirmed the introduction of a new route for international graduate entrepreneurs - international students who have engaged in innovative entrepreneurial activity during their studies and want to stay on afterwards to develop their business ideas.
The government will also improve the system for some short-term business visitors and entertainers to ensure world-class performers are encouraged to come here.
Notes to editors
1. Immigration minister Damian Green spoke at the policy exchange at 10am on Thursday 2 February 2012. Copies of the speech are available from the home office press office.
2. The migration advisory committee's report into family and settlement can be found here http://www.ukba.homeoffice.gov.uk/sitecontent/documents/aboutus/workingwithus/mac/family-migration-route/ and http://www.ukba.homeoffice.gov.uk/sitecontent/documents/aboutus/workingwithus/mac/settlement-restrictions-workers/
3. The latest published statistics show that there was an 11 per cent fall in student visas and a 17 per cent fall in work visas in the latest quarterly figures compared with a year previously and can  be found here: http://www.homeoffice.gov.uk/science-research/research-statistics/migration/
4. For all the latest Home Office news, photos and video visit the media centre: www.homeoffice.gov.uk/media-centre Follow the Home Office on Twitter at http://twitter.com/ukhomeofice
5. For more information please contact the Home Office press office on 020 7035 3535.
Case studies
The 'exceptional talent' route will facilitate up to 1,000 exceptionally talented migrants who have already been recognised and those with the potential to be recognised as leaders in their respective fields.
It is overseen by world renowned 'competent bodies' that will advise the UK border agency on these exceptionally talented migrants to ensure they are the brightest and best in their field. These include the royal society, arts council England, the royal academy of engineering and the British academy. Migrants seeking entry under the tier 1 exceptional category do not need to be sponsored by an employer but instead need to be recommended by one of the competent bodies.
The arts council has recently endorsed an exceptional talent application from one of today's leading fortepianists, and from an expert on visual effects considered to be a pioneer in the field, whose works include many of the recent James Bond films.
Scientists have also been using this route, including a Chinese researcher who has made a remarkable contribution to the field of condensed-matter physics. He came to the UK under this route with the endorsement of the Royal Society and is currently a tutorial fellow and university lecturer at a leading UK university.
The royal academy of engineering has also endorsed a number of applications from researchers demonstrating world class talent and potential, an Algerian chemical engineer who received a prestigious fellowship to develop new bio-fuels at a leading UK industrial research centre. 
Published 2 February 2012