Making government work better: Francis Maude's visit highlights Manchester's role in spearheading ambitious reforms
Francis Maude today undertook a series of visits in Greater Manchester designed to highlight innovative reforms in the region.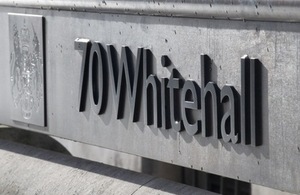 Minister for the Cabinet Office, Francis Maude, today undertook a series of visits in Greater Manchester designed to highlight some of the innovative reforms the government is championing in the region in order to deliver more effective public services and better value-for-money for the taxpayer.
Francis Maude, Minister for the Cabinet Office, said:
My visit to Manchester was a valuable opportunity to meet just some of the people working locally to deliver public services for their communities and throughout the country. Whether helping more small businesses to win Government contracts, or teaching our young people about civic responsibility, they are playing an important role in making Government work better.

The Cabinet Office is overseeing an unprecedented and ambitious programme of reform to open up public services so that taxpayers' money can be spent more wisely.

It's particularly pleasing to see Rochdale - the historic home of co-operatives - still at the forefront the movement. Rochdale Boroughwide Housing's plan to form an employee and resident owned mutual is truly ambitious and demonstrates the benefits in this way of doing things.

The minister began the day by delivering the keynote speech at the Information Commissioner's Conference at the Palace Hotel in which he discussed the balance between data protection and transparency. The Cabinet Office's Open Data strategy is making government more transparent and accountable by releasing increasing volumes of data into the public domain.
He then travelled to Rochdale to meet with tenants and employees of Rochdale Boroughwide Housing. The housing association is in the process of becoming a mutual, co-owned by its 600 staff and tenants, and will eventually take responsibility for running Rochdale Borough Council's 13,700 homes. 
The third stop of the day was Eccles, where he visited St Patrick's Roman Catholic High School in order to meet some of the students who hope to take part in National Citizen Service (NCS). NCS brings 16-year olds from different backgrounds together undertake outdoor activities and voluntary work. They will gain valuable life experience and new skills, make friends from all walks of life and prepare themselves for their futures - while playing a part in making their communities better. This year 30,000 places are available. There will be 90,000 places by 2014 and the long-term aim is for NCS to be available to every 16-year-old.
Notes to editors
1. Further information on the government's support for mutuals is available through the Mutuals Information Service.
2. Further information on the National Citizen Service can be found at nationalcitizenservice.direct.gov.uk.
3. Further information on the policies of the Efficiency and Reform Group at the Cabinet Office can be found here.
Published 6 March 2012