Major General Carter hands over the reins of Regional Command (South)
Major General Nick Carter, the UK's senior military officer in charge of the headquarters, handed over to Major General James Terry of the 10th…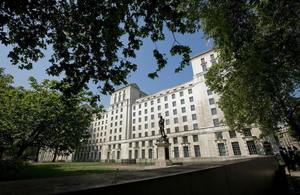 Major General Nick Carter, the UK's senior military officer in charge of the headquarters, handed over to Major General James Terry of the 10th Mountain Division on Tuesday 2 November 2010.
A ceremony to mark the occasion took place in Kandahar and personnel representing the 20 countries who have made up the Regional Commands during Major General Carter's time stood shoulder-to-shoulder to watch as General Sher Mohammad Karimi, Chief of Staff, Afghan National Army, and General David Petraeus, the Commander of ISAF forces in Afghanistan, presented medals to Major General Carter.
Lieutenant General David Rodriguez, the Commander of ISAF Joint Command, spoke of the sacrifice and success which had been characteristics of the tour, underlining that we must not forget the '162 lost warriors and hundreds of Afghan National Security Forces' who had made an 'immeasurable sacrifice'.
He said:
I am certain that their immeasurable sacrifice has made a difference in bringing the Afghan people closer to the future they desire and deserve. They gave their lives to make others' better - an incredible legacy for others to live up to.
During Major General Carter's time in the post, operations to secure the Taliban strongholds in and around Kandahar City have been conducted and work on many reconstruction projects including the key project to construct an electricity power station in the region have progressed.
Lieutenant General Rodriguez finished by telling Major General Terry to 'keep the partnerships strong - expand them. With your support, it will be the security forces, the government leadership, and mostly the people who will find solutions that will turn hope and growing confidence into reality'.
Major General Carter then spoke about the friendships and partnerships that had been forged during his time in post. He personally named and thanked all the provincial governors with whom he had worked and he finished by telling the 10th Mountain Division to 'Climb to Glory'.
There is still a large portion of UK military personnel deployed at Kandahar Airfield and 5 Squadron, 23 Engineer Regiment, are deployed forward on Operation HAMKARI.
The 904 Expeditionary Air Wing flies Tornado GR4 aircraft from the base, collecting imagery and providing surveillance and armed overwatch to personnel operating on the ground.
They also fly the C-130 Hercules aircraft which daily move personnel and freight between Kandahar, Kabul and Camp Bastion and air drop supplies to the harder to reach bases.
39 Squadron operates the Reaper aircraft from the base and force protection for the base is carried out by the RAF Regiment with their coalition partners under the command of No 5 Force Protection Wing.
Published 5 November 2010