Major exercise tests Olympics security preparations
Exercise Olympic Guardian, which takes place on land, at sea and in the air in the London and Weymouth areas, will see a wide range of capabilities…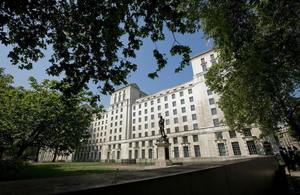 Exercise Olympic Guardian, which takes place on land, at sea and in the air in the London and Weymouth areas, will see a wide range of capabilities rehearsed in a deliberate and orchestrated manner over a nine-day period.
The Secretary of State for Defence, Philip Hammond, said:
Support for the Olympic Games will be an important task for Defence in 2012 and this exercise is about pushing our people and our systems to the limit to ensure that we are ready for the challenge.

The majority of this exercise will be played out in full view of the public and I hope that it will have a secondary effect of reassuring the British people that everything possible is being done to ensure this will be a safe and secure Olympic and Paralympic Games.
Running from 2 to 10 May, spanning the bank holiday weekend, most of the exercise will be played out in the public domain and the military aspects of it will result in a visible presence of Armed Forces personnel, ships and aircraft. This will include:
the berthing of HMS Ocean at Greenwich, with a number of Royal Navy Lynx helicopters embarked
the deployment of HMS Bulwark and other maritime assets to Weymouth Bay and Portland Harbour
the basing of RAF Typhoon fast jets and Royal Navy airborne early warning helicopters at RAF Northolt, and RAF Puma helicopters at a Territorial Army centre in Ilford
the operation of fast jets and helicopters over Greater London and the Home Counties
the deployment of ground-based air defence systems, fitted with practice drill missiles, along with air observer teams, to a number of sites in London.
The exercise will be played out in three phases - the first centred on Weymouth, the second in the airspace over London and surrounding counties, and the final phase on the Thames.
For some time, community engagement work has been ongoing in affected areas to inform local residents of possible disturbances and to explain the reasons for the activity. In particular, there will be minimal low-flying by various military aircraft. This will be carried out at times which keep disturbances to the minimum possible.
Standing Joint Commander (UK), General Sir Nick Parker, said:
I know that members of the Armed Forces are pleased to be able to make an appropriate contribution to the once-in-a-lifetime event that is London 2012. It's entirely proper that, as national institutions which serve our country, we are seen to be helping to make the London Olympics a resounding success.
Assistant Commissioner Chris Allison, National Olympic Security Coordinator, said:
Testing and exercising is vital to getting our safety and security operation for the Games right. We need to be confident that we have the right people in the right places, and that we understand how others operate.
This is a unique opportunity for us to deliver a world class operation that keeps the Games, and the country, safe and secure.
As part of the exercise, activity can be expected at a number of sites in and around London which have been identified as potential locations for the deployment of ground-based air defence systems.
No final decision has been taken by the Government as to whether this capability will be deployed as part of Olympics security arrangements but it does form part of Exercise Olympic Guardian.
The following sites have been identified as potential locations for ground-based air defence systems should the Government decide to deploy them for the duration of the Olympics:
Lexington Building, Fairfield Road, Bow, Tower Hamlets - high velocity missiles
Fred Wigg Tower, Montague Road Estate, Waltham Forest - high velocity missiles
Blackheath Common, Blackheath (Lewisham/Greenwich) - Rapier
William Girling Reservoir, Lea Valley Reservoir Chain, Enfield - Rapier
Oxleas Meadow, Shooters Hill, Greenwich/Woolwich - Rapier
Barn Hill, Netherhouse Farm, Epping Forest - Rapier.
Published 30 April 2012