Major Anglo-French exercise gets underway in the Mediterranean
The Defence Secretary and his French counterpart today witnessed first-hand a major naval exercise in the Mediterranean aimed at further developing the joint capability of the UK and French forces.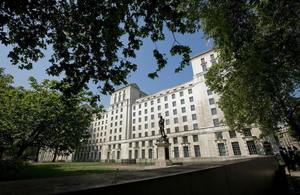 Secretary of State for Defence Philip Hammond and French Defence Minister Jean-Yves Le Drian witnessed the combined operations as part of Exercise Corsican Lion.
The aim is to further develop the maritime and land components of the newly formed UK/France Combined Joint Expeditionary Force - a ready-made task group of military hardware and personnel configured to react at short notice to world events.
As part of the 2010 French Defence Cooperation Treaty, the UK and French armed forces will continue to build a joint capability, due to be fully operational in 2016.
The exercise involves British ships and assets from the Royal Navy's Response Force Task Group (RFTG) - a rapid reaction force that can be deployed to deal with unexpected world events such as Libya last year.
Defence Secretary Philip Hammond said:
The UK's Response Task Force Group is a major, high-readiness force created to ensure that the Royal Navy can respond to, and deal with, emerging events around the world.

Exercise Corsican Lion is an impressive example of the joint operational capability we are building with our French allies in both our interests. This package of six British ships, and a Commando Force, gives the UK added global reach.
Working with our international partners is more important than ever before and forms a vital part of our operations, whether countering piracy in the Indian Ocean, protecting trade routes in the Gulf or providing contingent capabilities.
Mr Hammond and Monsieur Le Drian spent a day on board both Royal Navy fleet flagship HMS Bulwark and the French flagship, FS Charles De Gaulle. The week-long exercise is testing the British and French marines' amphibious beach assault skills, with the carrier strike group in place to protect and support them from the air and sea.
The exercise also allows the two countries to integrate their carrier operations ahead of the introduction of the Queen Elizabeth Class Aircraft Carriers into the Royal Navy's Fleet - the first of which is due to commence sea trials in 2017, followed by Lightning II flight trials off her deck in 2018.
Corsican Lion is part of a longer two-month deployment of the RFTG called Cougar 12 which involves more than 3000 sailors, marines and airmen, four Royal navy warships and one Fleet Auxiliary ship.
Cougar 12 aims to test the capability of the RFTG, Brigadier Martin Smith, Commander 3 Commando Brigade Royal Marines, said:
Exercise Corsican Lion has provided an excellent opportunity to develop and test our joint land and sea capabilities with our French counterparts against many of the challenges associated with contemporary operations.

Integration of the combined force was achieved rapidly and seamlessly delivering a highly flexible and potent force which we very much look forward to developing further in the future.
Published 26 October 2012