Maintaining the Navy's Sea Kings in Helmand
Aircraft Engineering Technician (AET) Kayleigh Beckley has been in Afghanistan for the last three months helping to maintain the Royal Navy helicopters that transport troops and equipment around Helmand province.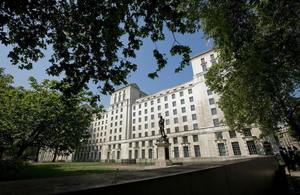 AET Beckley, aged 23 from Manchester, is the only female AET from 846 Naval Air Squadron (NAS) currently based at Camp Bastion in Helmand province.
Together with colleagues from 845 NAS they make up the support helicopter element of the Royal Navy's Commando Helicopter Force.
AET Beckley maintains the Sea King Mk4 helicopters which form part of the tri-Service Joint Helicopter Force (Afghanistan). She said:
I was looking forward to coming out here because it represents the culmination of all my training. I think my family were more worried about me coming here than I was. My biggest concern was knowing what kit to bring with me - I find it hard enough packing for a two-week holiday, so packing for three months was a bit of a challenge!
A normal day at work for AET Beckley ranges from basic flight servicing and daily maintenance tasks to big jobs such as double engine changes.
How busy the shift is depends on how much the helicopters have flown and how harsh the environmental conditions are on a particular day. She said:
Every day the jobs are different; it can be quiet but not often. I enjoy the busy days because there is always something to do, and it's rewarding to know we will get the aircraft flying again to help out the lads on the ground.
Although working in a predominantly male environment, AET Beckley says it makes no difference to her or the lads she works with:
I get involved with all the banter and hard work. I think the lads forget I'm a girl when I'm working with them, but I do seem to find myself cleaning up after them a lot.
In a couple of weeks AET Beckley will be heading home from her tour of Afghanistan, and, although she has found it an interesting and rewarding experience, she said:
I am looking forward to getting back and going on leave in Manchester - I can't wait to see my boyfriend and my family again.
Published 1 October 2010