News story
MAIB delivers VDR and electronic evidence seminar
MAIB delivers 2016 Voyage Data Recorder (VDR) and electronic evidence seminar on behalf of EMSA.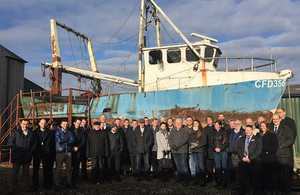 This week the MAIB, on behalf of EMSA, has delivered a seminar on VDRs and electronic evidence.
The seminar, hosted by Cranfield University's Safety and Accident Investigation Centre, was attended by delegates from 17 different countries and included three VDR manufacturers conducting VDR workshops on data recovery and replay.
We'd like to thank our guest speakers from NTSB, ATSB, Dutch Safety Board and CNIT Research in Italy.
Published 22 January 2016