News story
Magnox sets the new standard for storing radioactive waste
A project designing stores to hold radioactive waste from 12 Magnox sites has cut the cost of decommissioning the UK's first generation of nuclear power stations by £45m.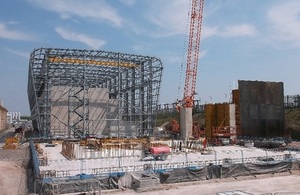 Various types of radioactive waste are generated throughout a nuclear power station's operational and decommissioning life. Even though over 99% of the radioactivity leaves the site when the spent nuclear fuel is removed, some intermediate level radioactive waste (ILW) remains and needs to be stored safely on site until a geological disposal facility becomes available in the UK.
Find out more about radioactive waste in the UK
The final 3 stores, currently under construction at Chapelcross, Harwell and Hinkley Point A sites, will be the last ones to be built at Magnox sites and will signal the end of a project that has saved £45 million for the UK taxpayer.
A major part of a Magnox site's decommissioning and hazard reduction programme involves retrieving this waste, stabilising it and placing it into a protective package that is suitable for this type of 'interim' storage.
The earliest Magnox waste stores were built to one-off designs, but a programme of work was set up to come up with the single best possible design for these stores and then to 'roll it out' across the rest of the Magnox sites.
Matt Buckley, The Nuclear Decommissioning Authority's (NDA) Higher Activity Waste Strategy Development Manager, said:
By developing a standardised design and consolidating waste in fewer stores we've seen a real positive impact on the entire Magnox decommissioning programme, realising significant savings for the UK taxpayer.

It's great to see Magnox Ltd implementing the NDA guidance, which has been developed working with industry, for the robust interim storage of radioactive waste.
The store design has been so successful that it has even been used to store radioactive waste in West Cumbria at Sellafield, the UK's largest and most complex nuclear site.
Rather than building a store at each of its 12 sites, Magnox Ltd developed a strategy where sites nearby each other will share just one store, saving an additional £45 million and cutting down on the disruption during construction.
David Hubbard, Magnox's Programme Manager responsible for the project to construct ILW stores, said:
We saw a real opportunity to learn from our experience and make some significant savings by coming up with a common design for ILW stores. The first 2 stores to be built under this programme were at Berkeley and Bradwell sites, but we will have seven in total by the time the project is complete.

The innovative design cuts down the need for maintenance and reduces the amount of hands-on control needed to provide a safe and secure environment for the waste containers for up to 150 years.
The distinctive steel-framed building design has curved outer surfaces and is designed to shed rainwater without the need for gutters, dramatically reducing the potential for leaks, even in the worst weather conditions. The store's design also incorporates thick concrete internal 'shield walls' to provide additional levels of radiation shielding.
The store at Harwell site has been clad with Siberian Larch, chosen by the local community as part of the engagement programme, to blend in with the local environment.
The stores are designed to be flexible and able to accept the whole range of radioactive waste packages currently used to hold waste from the Magnox decommissioning programme.
The main construction work has just finished at Harwell site's store, with the store at Chapelcross site on target for completion later this year, closely followed by Hinkley Point A site's early in 2019.
Craig Tatton, Managing Director Regional Building, at Interserve, the international support services and construction group, said:
We are proud of the collaborative relationships that have developed whilst we have been working on the Chaplecross and Hinkley Point A sites. The ethos of co-operation, shared learning and a one team approach with the same supply chain partners on all four projects has enabled us to share best practice and lessons learnt across the multiple sites.
And Brendan Dowd, Business Development Director at Trant Engineering said:
Trant Engineering are delighted to be able to showcase our proactive and collaborative approach to high quality and safe work systems as we work closely with Magnox to deliver this project.
Published 20 June 2018